Latest posts by Pro Sports Bio Team
(see all)
The most devoted baseball fans are always on the lookout for the next breakout star in Major League Baseball. They may be talking about their favorite team one minute and baseball players on other teams the next.
Today, the names getting thrown around include Vladimir Guerrero Jr, Mike Trout, Aaron Judge, and others. But one name that could pop up in conversations just might be Jordan Balazovic.
Balazovic is enjoying his time in the Majors as a pitcher for the Minnesota Twins organization. While he has yet to make his debut to the Big Show, he is proving himself that he is ready.
He was slated to make an appearance for the Twins, but the 2020 season was shortened. But he could breathe a sigh of relief knowing that he made the 40-man roster. For every minor leaguer who is on the cusp of getting the call up, it has to be equal parts exciting and nervous for someone like Balazovic.
This may be one of the names to watch in baseball for the rest of the decade. With so many baseball prospects in the minor leagues, only a small number get the call up sooner rather than later. Others may never make it to the big stage. Will Jordan Balazovic's time come? Only time itself will tell.
In this Jordan Balazovic Bio, we'll dive into the life and career of a pitcher who started his baseball talents in the heart of Blue Jays country and hoping to shine in the Majors.
Jordan Balazovic Quick Facts
Full Name: Jordan Balazovic
Birth date: September 17, 1998
Nicknames: N/A
Nationality: Canadian
Siblings: N/A
Spouse: N/A
Profession: Baseball player
Salary: $515,000 (2016)
Net Worth: $1.5 million
Social Media: N/A
Awards:

2019 MiLB Futures All-Star
Early Life and Career
Jordan Balazovic was born on September 17, 1998 in Mississauga, Ontario, Canada. Balazovic played baseball throughout much of his childhood. He would play baseball for the St. Martin Secondary School in his hometown of Mississauga.
He excelled to the point where he was picked up in the MLB Draft by the Minnesota Twins in 2016. Balazovic initially made the decision to play college baseball in the United States by playing for the Auburn Tigers.
His signing for an NCAA baseball program seemed unusual as he was a Canadian prospect that committed to a program earlier compared to American baseball recruits. During his senior year, he was ranked #401 in baseball prospects for 2016. During his time, he played in the Perfect Game Sunshine East Showcase and later the National Showcase.
During those games, his pitches have clocked in at 90 MPH. Prior to that year, his speed pitches were consistently in the low 80s. At some point during 2016, Balazovic had worked on his delivery and his pitching repertoire.
According to one scouting report, his slider made a lot of progress and was tightened considerably. His changeups were clocked in at 79 to 81 MPH while making it really deceptive for opposing batters.
The scouting reports credited Balazovic's ability to increase his physicality for the faster, better improved pitches. He was one of over a dozen commits to the Auburn Tiger baseball program at the time. However, he decided to forego his commitment to the SEC powerhouse and begin his career in the majors.
Professional Career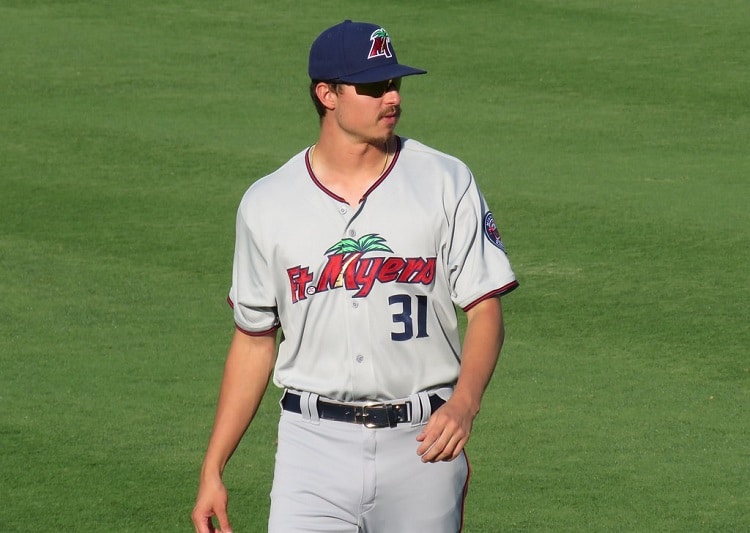 After choosing to start his pro career over going to school, Balazovic started his 2016 season with the Gulf Coast Twins in Fort Myers. He finished up the season with an ERA of 1.97. The following year, he stayed in Florida and posted a 4.91 ERA. He performed well enough to elevate himself to the Twins affiliate Cedar Rapids Kernels.
During the 2018 season, Balazovic played well in his 12 appearances with the Kernals. He wrapped up the season with a record of 7-3 and an ERA of 3.94. In those 12 appearances, he started in 11 games. A strong performance led him to a promotion to play for the Fort Myers Miracle.
In his return to Fort Myers after his Gulf League days, Balazovic made the 2019 All-Star Futures Game. In his 18 starts in 19 games, he posted a record of 8-5 with a 2.69 ERA. His strikeouts were 129 over the course of nearly 93 innings. His 2019 proved to be more fruitful when he represented Team Canada in the Pan American Games in Lima, Peru.
Balazovic and Team Canada made it to the finals, where they lost to Puerto Rico 6-1 and were awarded the silver medal in the process. Canada were the defending Gold Medal Champions in the previous Pan Am Games that were hosted in their home country.
After the 2019 season, Balazovic once again was on the move. This time, he was promoted to Double-A Wichita Wind Surge. The 2020 baseball season had been delayed due to the COVID-19 pandemic.
However, when the summer camp was about to start, Balazovic did not appear in the 60-man player pool. According to sources linked to the Twins organization, they stated that they didn't include some of their prospects because they were focused on a winning season rather than playing more emphasis on their pitching prospects.
However, Balazovic was added to the 60-man roster later that September. Later that year, the Twins purchased Balazovic's contract to ensure that he was shielded from the Rule 5 Draft. As a result, he was added to the 40-man roster. Despite not developing for a good part of 2020, he was still in preparation for the 2021 season.
At the time, he was not assigned to either the Double-A Wind Surge or the Triple-A St. Paul Saints. Eventually, he made a return to the Double-A team for the 2021 season. The assignment was made official in March.
The start of the 2021 season was cut short for Balazovic when he suffered a back injury. However, he returned to the team in June. During his 2021 debut, he tossed five strikeouts and two walks in three innings. Balazovic wrapped up the 2021 season with the Wind Surge with a playoff appearance versus the Northwest Arkansas Naturals (the Double-A affiliate of the Kansas City Royals).
They were swept by the team 3 games to none. In the last game, Balazovic pitched three and a quarter innings. Despite striking out three batters, he gave up four runs and had a game ERA of 9.82. While his most recent outing hadn't been the best, Balazovic may think to himself that every baseball player has their bad days.
Jordan Balazovic Pitching Style and Scouting Reports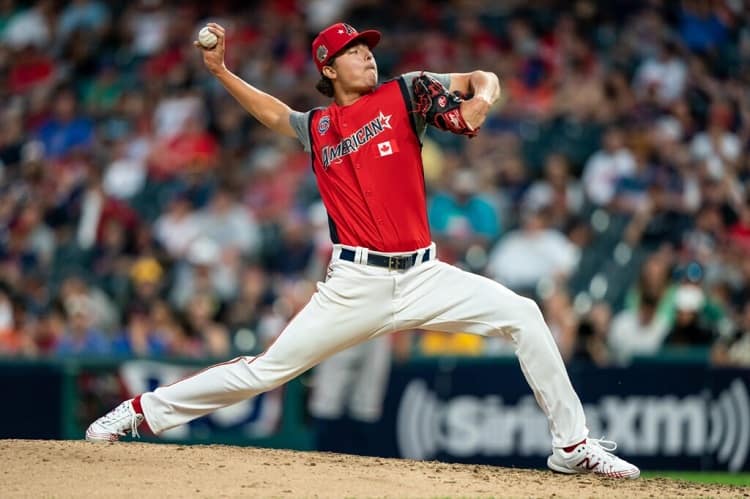 Balazovic was scouted numerous times over the course of his young baseball career. According to the various scouts that have watched him over many games, they pinpointed that Balazovic's best pitch is a four-seam fastball. One scout said that it has 'plenty of juice'.
His velocity has consistently clocked in at around 95 MPH, but the final product was said to be around 92 to 94 MPH once he gets into a rhythm. One report said that RPM wise, Balazovic's fastball was clocked in at 2150 RPM, which was considered to be above average for a pitcher in terms of movement.
The RPM seemed to be something to focus on since it tends to throw off opposing batters. Balazovic's pitches tend to stay within the strike zone so it keeps batters guessing.
Some batters may find themselves overmatched when pitted against Balazovic's pitching selection because of its movements alone. The ball also has a tendency to move 'up and away' when facing off against batters of either side (right or left).
At one point, scouts had their concerns regarding Balazovic's fastball. For example, one prospect said that the fastball seemed to be lacking control and would have a habit of moving slightly above the strike zone at times. Balazovic's fastball at one point was considered looking 'too true' because it had failed to have a certain spin to it.
During the MLB Futures Game in 2019, Balazovic seemed pretty confident in using the fastball and his performance further confirmed it with a mix of speeds and locations. For the most part, the contact with opposing batters were weak.
However, his fastball may still have the potential to improve in the velocity department. As it stands at 95 MPH, an increase in velocity could be enough to intimidate opposing batters.
Balazovic's next best pitch is a slider, which could also be easily confused for a harder version of a curveball. However, broadcasters identified it as a slider.
At one point, Balazovic's slider seemed inconsistent according to one scouting report. However, that slider would improve even more once he played for the Wind Surge. The slider proved itself useful when Balazovic wanted to make the batter swing for a strike rather than stand there.
The slider appeared to have some kind of movement that would have a habit of deceiving batters. When it's performing at its best, Balazovic's slider is known to start off low before spiking.
This makes an opposing batter second guess his swing or even the pitch he's looking for. If the batter is looking for a fastball, he can assume that Balazovic's slider appear like one before the ball makes a move. While the slider is not considered to be a pitch to generate an out, it is considered to be Balazovic's most reliable pitches when he needs it.
His final go-to pitch is his change-up. Of the three, this was one of this weakest. His average velocity for this pitch clocks in at just south of 90 MPH, but no lower than the high 80s.
During the 2019 Futures Game, he never used this pitch in his outing. The changeup was described as too firm. Balazovic is known to rarely use this pitch, signalling his confidence in using it. For this reason, he compensates greatly from his fastball, especially against left-handed hitters. His slider has also proved itself useful against the same hitters.
Balazovic's pitching style shows that he has footwork that is consistent and lands his lead foot in the same spot every time. His legs showed great stability during every delivery.
The Minnesota Twins training staff emphasized that pitchers should focus on their lower body including the glutes to ensure that they throw better pitches consistently. As he works his way up to the 40-man roster, Balazovic's fastball may be a nightmare waiting to happen for opposing batters.
Overall, scouting reports were impressed with his fastball and situational slider. During the start of every at-bat, he will more than likely throw a slider. If the pitch is producing strikes, he may continue to use it or perhaps mix it up with a fastball. He has the potential to shine as a two-pitch pitcher.
His changeup may improve over time, but the decision to work on that is at the discretion of Balazovic. Otherwise, he may need to work on a third pitch that can be effective. In other words, having a two-pitch repetroire can only get a pitcher so far to an extent. Rumor has it that Balazovic may be working on a curveball that may serve a purpose in the future.
But it may not be polished enough for him to throw it consistently. The curveball as of right now may be a slow looper, which could throw off opposing batters once improved.
Scouts believe that once Balazovic makes it to the Majors, he could end up somewhere on the 5-man starting rotation possibly as a #5 starter. Otherwise, he could be seen as a likely setup pitcher.
However, this may contradict other reports. Some of those among the Twins Organization believe that Balazovic could have the potential to become an Ace later on in his career.
Whether or not it will happen, only time will tell. While he has yet to make an appearance in the Majors, his place in the rotation or the bullpen will depend on how well he'll perform once he gets the call up.
His place in the lineup will usually be subject to change as it has been for pitchers in the past. As for when he will make an appearance on the 40-man roster for 2022, stay tuned for that.
Jordan Balazovic Player Comparison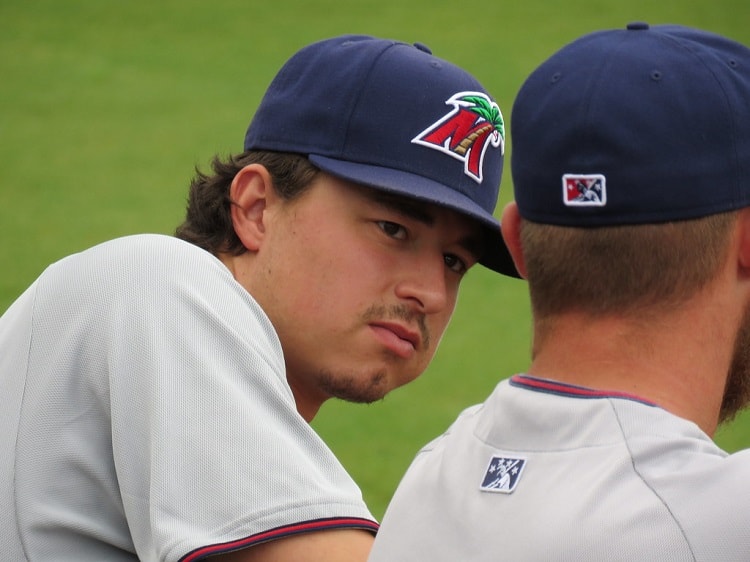 When comparing Jordan Balazovic to other players, we look to see which pitchers have a similar repertoire. Balazovic has a fastball and slider as his best two pitches. One other pitcher is Walker Buehler of the Los Angeles Dodgers. Both Balazovic and Buehler will rely on their fastballs half of the time. However, the latter may use the slider less often.
Jordan Balazovic Family and Relationships
Jordan Balazovic has a father and grandfather that had played baseball. The name of his parents are unknown. As of 2021, Jordan Balazovic is not married.
Jordan Balazovic Net Worth and Salary
Currently, Jordan Balazovic's net worth is somewhere near $1.5 million. His salary is currently unknown. However, he was said to have made $515,000 during the 2016 season.
Jordan Balazovic Memorable Quotes
"I was 12 years old when I started pitching. I became a full time pitcher at 14 years old." (About his early pitching years)
"It was an unreal experience. It's the closest thing to the big leagues, really. They treated us like big leaguers and I thought that was awesome". (On playing in the 2019 Futures Game)
Jordan Balazovic FAQ
Question: Did Jordan Balazovic Ever Play for the Auburn Tigers?
Answer: Despite committing to the Auburn Tigers baseball team in 2016, Balazovic decided to start his pro career instead (despite plans to do the opposite). He played in the Florida Gulf League in Fort Myers for two years before moving up through the Twins system.
Question: Did Jordan Balazovic Play Baseball in Canada?
Answer: Balazovic played for the Ontario Blue Jays at one point. He also represented Team Canada in the 2019 Pan American Games in Lima, Peru where he won a silver medal.
Question: Will Jordan Balazovic Get Called Up to the Majors?
Answer: As of 2021, Balazovic has yet to make an appearance for the Minnesota Twins. He was named to the 40-man roster after the 2020 season has part of a plan to protect him from the Rule 5 draft.
With the 2022 season approaching, Balazovic may be one of the names frequently mentioned as a call-up to join the Minnesota Twins. However, this may depend on how he performs during the upcoming spring training.
Question: Did Jordan Balazovic Recover from his Injury?
Answer: Balazovic injured his back on March 2021, which further delayed his debut for the season. However, he made a full recovery and debuted for the Witchita Wind Surge this past season and had performed fairly well.
Question: Will Jordan Balazovic Become an MLB All-Star?
Answer: While his prospect and scouting reports show great potential, it may depend on how well he does if and when he gets the call-up to the Majors. It may be a matter of time when Jordan Balazovic makes the All-Star team. He did make an appearance in the 2019 All-Star Futures game during his breakout season.
Question: What are Jordan Balazovic's Best Pitches?
Answer: Balazovic is known to be a two-pitch pitcher. His repertoire consists of a four-seam fastball and a slider. His third pitch is a changeup, but is known to be his weakest pitch, thus he rarely, if at all, uses it. However, there is a rumor that Balazovic may be adding a potential third pitch (specifically a curveball).
The curveball had been used a couple of times as an experiement during one of his outings. However, it may seem that the pitch itself may be far from polished.
Continue reading related bios from MLB personalities