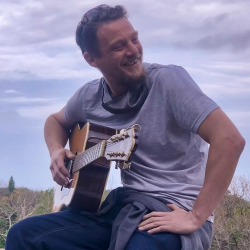 Latest posts by Tom Allport
(see all)
Henry Louis Aaron, aka Hank Aaron, Hammerin' Hank Aaron, or The Hammer, was a baseball legend and currently holds the all-time number two spot in career home runs with 755. In 1974 Hank Aaron was the first player to break the record of 714, set by the most famous baseballer ever – Babe Ruth.
Throughout his Major League Baseball (MLB) career, which spanned 23 seasons, Hank Aaron was subjected to racial abuse. When it became clear that he could challenge the record set by Babe Ruth, the abuse worsened. Death threats directed not only at him but also at Hank Aaron's family led to his involvement in the civil rights movement.
Hank Aaron passed away in January 2021, just weeks after attending a highly publicized COVID-19 vaccination event. The event was attended by prominent African-Americans in a bid to assuage concerns over the safety of the vaccine among the larger community.
Hank Aaron's death sparked debate about whether his passing could be linked to the vaccination. Reports were quickly publish stating that Hank Aaron passed away peacefully in his home from natural causes, aged 86.
Hank Aaron Quick Facts
Full Name

: Henry Louis Aaron

Birth Date

: 02/05/1934

Birth Place

: Mobile, Alabama

Nick Name

: Hank, Hammerin' Hank, or The Hammer

Nationality:

US

Siblings

: Tommie, Herbert, Alfred, Gloria, Alfredia, & Sarah

Wife

: Barbera Lucas (m. 1953 – d. 1971), Billye Aaron (m. 1973)

Profession

: Baseballer

Salary

: N/A

Net Worth

: Estimated $25 million

Social Media

: None

Awards

: 1952 Rookie of the year award (Northern League). 1953 most valuable player award (South Atlantic League). 1956 & 1959 National League Batting average award. 1956 Sporting News National League Player of the Year. 1957 National League Most Valuable Player award. 1953, 1963, 1966 & 1967 National League Home Run leader. 1957, 1960, 1963, & 1966 National League RBI leader. 1958, 1959, 1960 National League Golden Glove. 1982 named to Baseball Hall-of-Fame. 2002 awarded with the Presidential Medal of Freedom.

Last Updated

: 08/31/2021
Hank Aaron Birthplace and Early Life
Henry Louis Aaron was born on Feb/05/1934 in Mobile, Alabama to his parents, Herbert Aaron Sr. and Estella Aaron (nee Pritchett). Herbert Sr. and Estella had 8 children and very little money for luxuries.
His poor family was unable to afford baseball equipment, but like most kids, Hank would not let this stop him. He would find sticks to use as a bat, while bottle caps, stones, and other items picked up from the street would serve as a ball.
In 1947 when young Hank was 13, Jackie Robinson (the first-ever African-American of the 'modern era' to play major league baseball) appeared for the Brooklyn Dodgers. Hank immediately found an idol, and his passion for baseball was truly discovered.
The school Hank Aaron attended did not have any organized baseball, but despite this, just 2 short years later, Hank would appear himself at a tryout for the Brooklyn Dodgers. He showed great talent as a cross-hand power-hitter but aged only 15; he did not make the team.
He returned to Alabama to complete his high school education at the Josephine Allen Institute. At the time, Hank Aaron played for teams in the local area earning between $2 and $3 per game.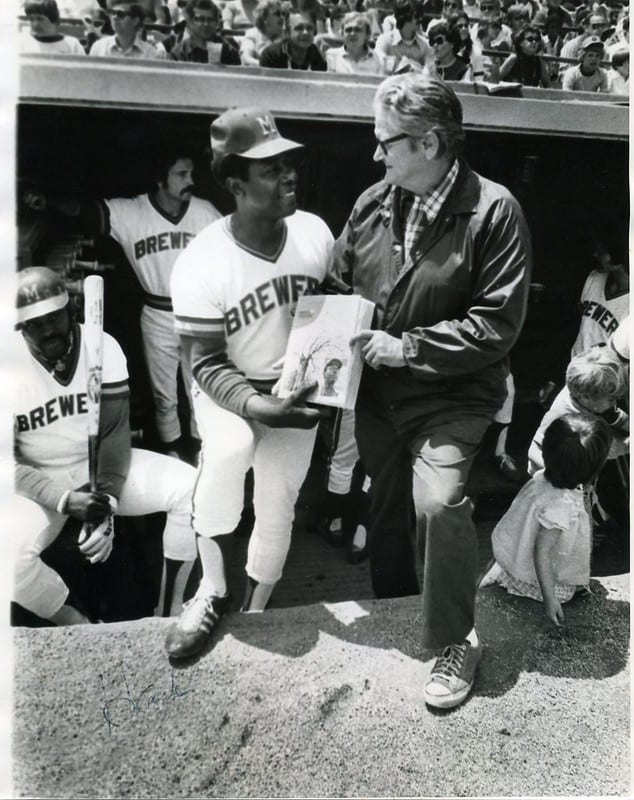 Hank Aaron Professional Career
When he was 17, Hank Aaron was spotted by scout Ed Scott who signed him to the Indianapolis Clowns with a salary of $200 per month. Within the first 3 months of playing for the Clowns, Hank Aaron received offers from the New York Giants and the Boston Braves.
Hank Aaron signed a deal with the Boston Braves. The Braves had offered a slightly more lucrative contract than the Giants. Hank said years later,
"That was the only thing that kept Willie Mays and me from being teammates – fifty dollars."
The Braves purchased Hank Aaron's contract from the Indianapolis Clowns for $10,000. The Braves General Manager at the time said he thought the signing was a steal and that Aaron was "$100,000 property".
1952 was a defining year for Hank Aaron. He was assigned to the Braves' Northern League Class-C Farm team, the Eau Claire Bears. He quickly proved his worth with the Eau Claire Bears and made the Northern League's All-Star team.
In the 1952 season, Hank Aaron competed in only 87 games. However, his batting record and the improvement in his fielding ability did not go unnoticed. In 1952 Hank Aaron switched from a cross-hand to the standard batting technique and made 116 hits, 89 runs, nine home runs, and 61 RBI's. His performances caused The Northern League organizers to unanimously name him the 1952 Rookie of the Year.
Still only a teenager, Hank Aaron was facing racial abuse and missing his home and family. His older brother Herbert Jr. convinced him not to turn his back on the opportunity his talent and the contract with the Braves had afforded him. This conversation may have changed Hank Aaron's life.
In the 1952 season, Hank Aaron had primarily been known as Henry, but he was given the nickname of Hammerin' Hank by his teammates. It is purported that pitchers from his opponents named him Bad Henry.
In 1953 Hank Aaron was promoted to the Jacksonville Braves, the Braves' Class-A team competing in the South Atlantic League. If anything, the racial abuse that Hank Aaron had to endure worsened while playing with the Jacksonville team in the south.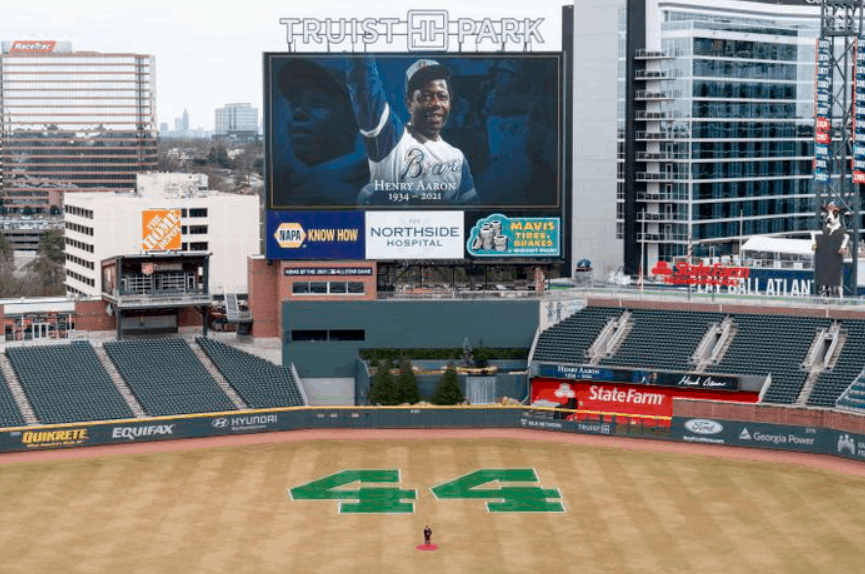 At the time, there was segregation between ethnicities among many states in the south of the U.S. In many places, "Jim Crow" laws forced Hank Aaron to eat in separate restaurants and stay in different accommodations to his teammates.
Despite the treatment Hank Aaron received during the 1953 season, he led almost every statistic on the scorecards. With 115 runs, 208 hits, 36 doubles, 125 RBI's, 338 total bases, and a batting average of .362. He also hit 14 triples, 22 home runs and led the league fielding record at 2nd base, with 330 Putouts and 310 assists.
Hank Aaron met his first wife at a game during the 1953 season, where he hit a single, a double, and a homer. Hank Aaron would marry Barbera Lucas just a few months later, on Oct 6th.
Towards the end of 1953, Hank Aaron spent late fall and winter months playing in Puerto Rico. Despite the Korean war being over, people were still being drafted into the military. This period abroad allowed time for the Braves to negotiate with the military brass to allow Hank Aaron to avoid conscription.
Hank Aaron Major League Career
In 1954 Hank Aaron was still on the Braves' Farm Team roster, but he trained with the Major League team before the start of the season. Following the injury of the 1st team's 2nd baseman, Hank Aaron started his first game for the Milwaukee Braves on March 14th, 1954, in a pre-season training game. He spent the game fielding on 2nd base, but when his turn came to bat, he hit a home run.
On the last day of pre-season, he signed a Major League contract with the Braves. He made his competitive debut a month after his first pre-season game on April 13th. He remained hitless for his debut but hit a double just 2 days later. His first home run came just a week after that, on April 23rd, 1954.
Hank Aaron played 122 games in the 1954 season, with 13 home runs and a .280 batting average before fracturing his ankle on September 5th.
When he returned from injury, he gained what would become his iconic number 44 jersey. At around this time, Don Davidson was the public relations manager of the Braves, and he began to publicly call Henry "Hank." He felt that the name Hank would make the quiet, reserved Aaron more approachable to fans.
He was still just 20 years old, but the name Hank Aaron soon began to appear regularly on the sports news pages.
1955 was Hank Aaron's second season as a Major League Baseballer. He had a batting average of .314, hit 27 home runs and 106 RBI's. These stats earned him a place on the National League All-Star team roster. This was just the first of 21 calls to represent the All-Stars, a record that stands to this day.
In 1956 Hank Aaron led the batting average tables with a .328 and won his only National League Most Valuable Player award. He had 200 hits, 26 home runs, and 92 RBI's.
In 1957 Hank Aaron narrowly missed out on triple crown glory. He led the tables with 44 home runs and 132 RBI's, but placed third in batting averages, with a .322. The Braves won the 1957 pennant against the St. Louis Cardinals on September 23rd. Hank Aaron hit a two-run walk-off home run to claim the victory.
This is the only time in history that the pennant has been won in this fashion. Upon reaching home base, he was held aloft and carried from the field in celebration by his teammates.
The Braves went on to win the 1957 World Series four games to three, from the defending champions, the New York Yankees. Hank Aaron hit three home runs, seven RBI's and finished the series with a .393 batting average. In December of 1957, Barbara Aaron gave birth to twins; two days later, one of the children sadly died.
In 1958 Hank Aaron placed third in the National League Most Valuable Player award. He posted stats of 30 home runs, 95 RBI's, and a batting average of .326 from 196 hits. Hank Aaron won the Golden Glove in the right field for the first time. He also led the Braves to another 7-game World Series in 1958, but this time it was the Yankees that took the glory.
The only time Hank Aaron ever hit 3 home runs in a single game, he made sure he did it in style. Every one he hit was a two-run homer against the San Francisco Giants on June 21st, 1959.
In 1963 Hank Aaron missed out on the triple crown again, with the same stats as his last near miss. Again he led the standings, this time from 201 hits; he managed 44 home runs and 130 RBI's, but again placed third in batting average with a .319.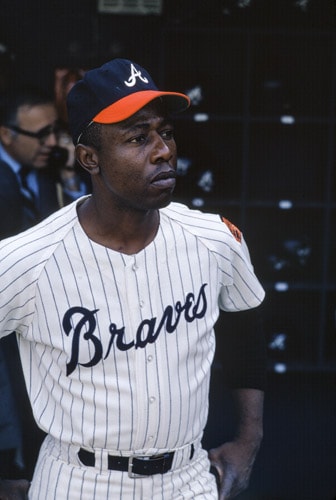 In the 1963 season, Hank Aaron became the third player to steal 30 bases and hit 30 home runs in the same season. He also had a good season in right field with 266 putouts, but despite all this, he only made it to the number 3 spot in the MVP standings.
In 1965 the Braves moved from Milwaukee and became the Atlanta Braves.
In 1967 Hank Aaron made an interesting new personal career record that was a testament to his batting power. He hit a home run in Philadelphia against pitcher Jim Bunning. The difference was, this was the only inside-the-park home run of his entire career.
In 1968 Hank Aaron became the first Atlanta Braves player to hit 500 career home runs. At the time, he was the eighth player and the second youngest to ever reach the record.
In 1969 he came third once again in the MVP race with stats of 44 home runs, 97 RBI's, and a batting average of .300. He also had 283 putouts from the right field. During the 1969 season, he entered the top 3 career home runs behind Willie Mays and Babe Ruth.
In 1970 Hank Aaron reached another personal record reaching 3000 career hits. His batting stats of 38 home runs, 118 RBI's, and a batting average of .298 saw him set another record; The most seasons with over 30 home runs in the National League.
In 1971 Hank Aaron became the third player ever to hit 600 career home runs; currently, only 9 players have ever reached this total. He also reached a career-best with 47 home runs. This set a National League record, being the seventh time he had hit over 40 in a single Major League season.
1971 saw Hank Aaron hit his first home run in an All-Star Game, and he finished third in the running for MVP for the sixth time. He finished the season with 47 homers, 118 RBI's, and a batting average of .327. He also recorded 734 putouts fielding at first base, impressive all-around stats for a man of 37.
In the 1972 season, Hank Aaron improved upon the home run record of Willie Mays and gained the second spot on the all-time leaderboard behind Babe Ruth. The season saw Hank Aaron gain 2000 career runs and break Stan Musial's (6134) record for total bases.
In 1973 Hank Aaron was quickly approaching Babe Ruth's legendary home run record. The Braves employed a secretary specifically to deal with the thousands of items of mail that were received by Hank Aaron. Towards the end of 1973, Hank Aaron received a plaque from the U.S Postal Service for receiving more mail items (930,000) than anyone outside of politics.
Racial abuse and death threats were aimed not just at Aaron and his family but also threats to journalists who painted a positive picture of the sportsman.
In the 1973 season, Hank Aaron made another 40 home runs to bring his career total up to eight 40+ seasons. He finished the season just one home run away from Babe Ruths Record. With all the tension, Hank Aaron said that he feared that he may not survive the off-season.
On April fourth, in his first game, in fact, his first swing of the 1974 season saw Hank Aaron equal Babe Ruth's record of 714 home runs. The record had been set the year after Hank Aaron's birth and stood for almost 40 years.
Babe Ruth's widow, Claire Hodgson, spoke out against the racial abuse suffered by Hank Aaron, his family, and those affiliated with him. She went on record saying that Babe Ruth would have been "enthusiastically cheering" Hank Aaron's bid to break his record.
Just a few days later, Hank Aaron would hit his 715th homer in Atlanta against the Los Angeles Dodgers pitcher Al Downing. The L.A Dodgers broadcaster had this to say in the moment,
"What a marvelous moment for baseball; what a marvelous moment for Atlanta and the state of Georgia; what a marvelous moment for the country and the world. A black man is getting a standing ovation in the Deep South for breaking a record of an all-time baseball idol. And it is a great moment for all of us, and particularly for Henry Aaron."
At the end of the 1974 season, Hank Aaron's contract with the Braves was up. In his last at-bat as a Braves player, he hit his 733rd home run for the team he had played with for 22 years.
At the end of the 1974 season, Hank Aaron signed a two-year contract with the Milwaukee Brewers for a record salary at the time, $240,000 per year.
His switch to the Milwaukee Brewers was also a switch from the National League to the American League. The Americal League allowed Hank Aaron to be named as a Designated Hitter (DH). This means that he replaced the pitcher in the batting order and did not have to compete as a fielder.
In the 1975 season, while playing for the Brewers, Hank Aaron broke another of Babe Ruth's long-standing records, most career RBI's.
In 1975 Hank Aaron was added to the American League All-Star team roster. This established another record for appearances for an All-Star team. He had appeared on every National League All-Star team roster for 19 years, since his second season in Major League Baseball. He racked up 20 appearances on the All-stars roster during his time in the National League.
This American League All-Star call-up brought his career total to 21. This is another of Hank Aaron's records that still stand today.
1976 was Hank Aaron's last season as a professional Baseball player. He was 42 at the time and posted stats from 85 games, 271 At-Bats, 62 hits, 10 home runs, 35 RBI's, and a batting average of .229.
Upon his retirement in 1976, the Milwaukee Brewers retired his number 44 jersey in respect of Hank Aaron's stellar career. The following year, the Braves followed suit, retiring the number 44 jersey for their team also.
Hank Aaron finished his final season with career stats of 3,771 hits, 755 home runs, 2,297 RBI's, and a batting average of .305. He is still at the top of the table for the most seasons with over 20 home runs – 20 consecutive seasons. He hit over 30 homers in 15 seasons, over 40 in eight seasons and remains one of the most prolific hitters in the history of baseball.
Hank Aaron sits at the number 3 spot in hits (3,771) behind Ty Cobb (4,189) and Pete Rose (4,256). His 2,174 career runs also place him in the all-time top 5.
When Barry Bonds broke the career home runs record in 2007, he became the third player ever to hit over 700 home runs along with Babe Ruth and Hank Aaron. Hank Aaron's career records of 2,297 RBI's and 6,856 bases still stand today, 46 years after his retirement.
Hank Aaron said that it was his bases record that he was most proud of in his career because it showed his contribution and value as a team player.
Hank Aaron Post Professional Career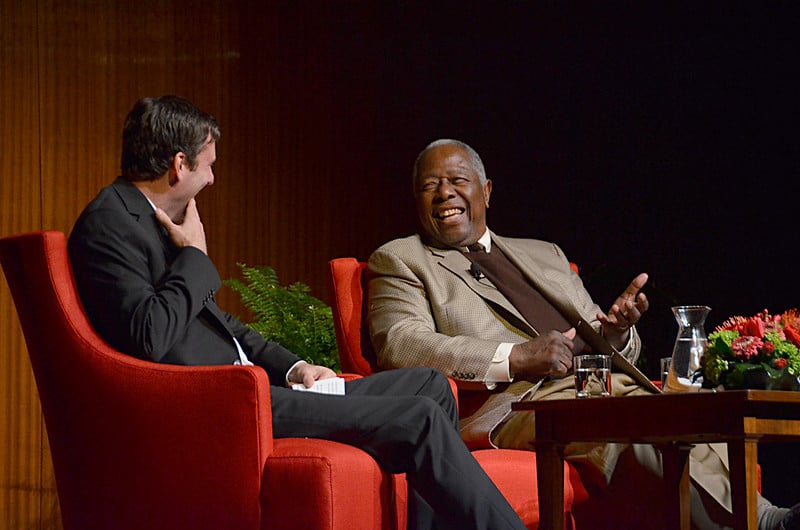 After completing his playing contract with the Brewers, Hank Aaron returned to the Braves as an executive. He also became a figurehead in the Civil Rights movement during his playing career. After his retirement from competition, he dedicated more time to promote racial equality.
Hank Aaron was one of the first African-American senior executives in Major League Baseball when Ted Turner appointed him vice-president of player development.
In 1980 he was made Vice president, added to the board of directors, and named assistant to Ted Turner, the club president.
In 1982 he was voted into the MLB Hall-Of-Fame with 97.8% of the ballots cast; this puts him in the all-time top 10 for most votes.
In 2007, the same year that Barry Bonds broke Hank Aaron's home run record, the Braves were bought out by the Time Warner company. Despite the change of ownership Hank Aaron kept his management role at the club and founded the Hank Aaron Rookie League program.
The Hank Aaron Rookie League was set up as an initiative to make Major League Baseball more accessible to ethnic minorities. This was just the first of a number of initiatives set up by Hank Aaron and his wife to benefit children of poorer communities throughout the U.S.
Hank Aaron was also a successful businessman in his own right owning a chain of over 30 restaurants in the U.S. In addition, he owned a number of automotive dealerships in Union City and throughout Georgia.
As Barry Bonds closed in on Hank Aaron's home run record, there was media attention, and Hank and Bonds even appeared in an advertisement together. A media tactic to promote interest in the race to the record displayed a rivalry between Aaron and Bonds.
Hank Aaron said publicly that he would not be at the game to witness his record being broken. Despite this, a surprise message appeared on the Jumbo-Tron when Bonds hit his 756th homer. In the message, Hank Aaron congratulated Barry Bonds on his achievement, paying recognition to his skill and dedication to the sport.
Hank Aaron Family
Hank Aaron was one of eight children born to his parents Herbert Aaron Sr. and Estella Aaron. There seem to be only 6 of his siblings named in online records, Tommie, Herbert Jr., Alfred, Gloria, Alfredia, & Sarah.
Hank Aaron's first marriage to Barbara Lucas would result in the couple having 5 children of their own, Hank Jr., Gary, Lary, Dorinda, & Gaile.
Following his divorce in 1971, Hank Aaron remarried in 1973 to Billye Williams. The union produced one child, Cece.
Hank Aaron COVID-19 Vaccination and Death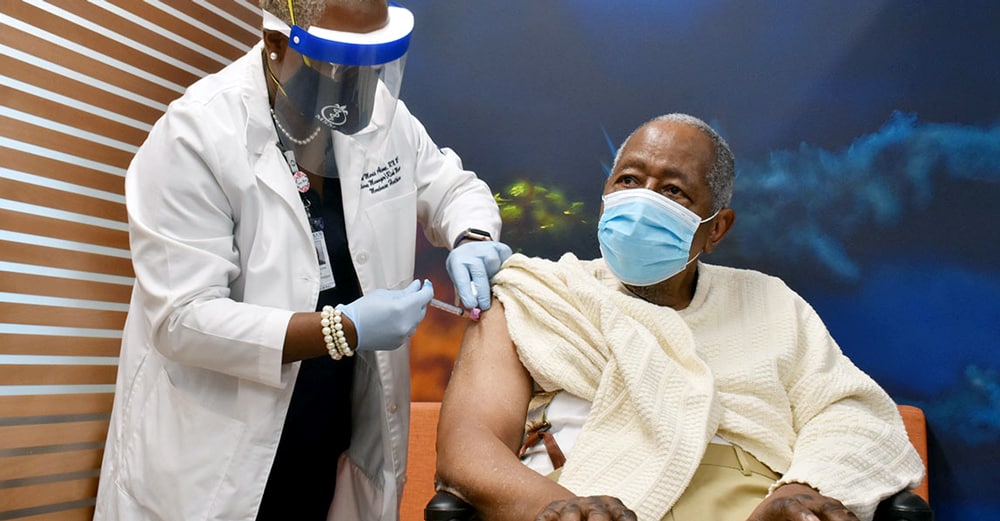 In early January 2021, Hank Aaron was among a number of leading African-Americans to receive the Moderna COVID-19 vaccine. He was vaccinated at a media event to promote awareness of the safety of the vaccine and encourage more African-Americans to participate in vaccination.
Just a few weeks after receiving his vaccination, Hank Aaron passed away. The timing of his death and the proximity to his vaccination sparked debate over whether his death could be attributed to the vaccine.
An almost immediate response from medical staff was published to dispel these rumors. The cause of death is said to have been natural causes. Hank Aaron passed away peacefully in his sleep just 2 weeks before his 87th birthday.
Hank Aaron Net Worth and Career Earnings
At the time of his death, Hank Aaron had a net worth estimated to be around $25 million. In his last 2 seasons as a baseball player, his $240,000 per year contract was the most lucrative Major League Baseball salary ever. Hank Aaron's record-breaking salary was more than doubled by Mike Schmidt, who signed a $560,000 per year contract the year after Aaron's retirement.
Hank Aaron Video
This highlight reel shows some of Hank Aaron's most memorable moments.
Hank Aaron Memorable Quotes
One of the most memorable and inspiring quotes from Hank Aaron is,
"Just keep swinging."
He would repeat this like a mantra to himself when he was in a rough patch or feeling down on his luck. If you don't swing, you don't hit. So just keep swinging.
Hank Aaron FAQ's
Question: Did Hank Aaron Serve in the Military?
Answer: No. The military was still drafting men after the Korean war, but the Braves managed to convince the military not to draft Hank Aaron. Willie Mays has been on record saying that if it wasn't for his conscription to the military that he would have been the one to break Babe Ruth's record.
Question: How Many Bases Did Hank Aaron Steal?
Answer: Hank Aaron stole 240 bases in his career and had 6 seasons with over 20 stolen bases.
Question: How Did Hank Aaron Change Baseball?
Answer: Hank Aaron was one of the most influential African-American baseball players of all time. After his playing career, he went on to found a number of organizations to benefit children of poor communities and to open professional baseball to ethnic minorities.
Sources
Continue reading related Bios from MLB personalities: