Latest posts by Pro Sports Bio Team
(see all)
There have been plenty of NFL coaches that have made their mark in the sport. While many of them have gone on to appear in the playoffs, win Super Bowls or Coach of the Year awards, others have floundered. Many coaches have started as NFL players themselves.
And it takes a good coach to know the game, even if they have player experience for quite some time. The name Gruden is familiar to those in the sport of football. But we're not going to be talking about Jon Gruden, but his brother Jay.
During his time as a player, he also tried his hand at coaching. But it wasn't until the end of his professional career when he transitioned into coaching full-time. As a coach, he won a Super Bowl as an assistant and two ArenaBowl Championships as a head coach.
Gruden may be notable for his time as the coach of the then-Washington Redskins. Gruden was the coach for five seasons before he was let go after the 2019 season.
Previously, he was the offensive coordinator for the Jacksonville Jaguars. Even though his career in the NFL as a coach may not be as illustrious as the others, he made a name for himself in a different league. Regardless, it's something to be proud of. Since the end of the 2020 season, Gruden has yet to land a new role. Will it be coaching or broadcasting? Who knows?
Our Jay Gruden Bio will take a look now at Jay Gruden, his life, his career, and what he might be up to these days.
Jay Gruden Quick Facts
Name: Jay Michael Gruden
Birth Date: March 4, 1967
Nicknames: N/A
Nationality: American
Siblings: Jon, James
Spouse: Sherry Gruden (m. 1990)
Profession: Football coach
Salary: $5 million
Net Worth: $12 million
Social Media: N/A
Awards:

Super Bowl Champion (2002)
Arena Bowl Champion (1998, 2000)
Arena Football Hall of Fame
ArenaBowl VII MVP (1993)
AFL MVP (1992)
Early Life
Jay Gruden was born on March 4, 1967, in Tiffin, Ohio. He is the son of Jim and Kathy Gruden. The Gruden family were no strangers to football. Jim was a football coach who became a football star during his high school years in Ohio. His overall record as a three-year starting quarterback was 24-3.
The elder Gruden's coaching career in the NFL lasted two seasons when he was the running backs coach for the Tampa Bay Buccaneers. He also served as a scout for the San Francisco 49ers.
In Jay's high school years, he decided to follow in his father's footsteps. He played quarterback for the Chamberlain High School Chiefs in Tampa. He went on to play college football for the University of Louisville Cardinals.
During his four-year tenure with the team, he finished with 7,024 passing yards and 44 touchdowns. At the end of his collegiate football career, Gruden finished in the top five all-time rankings. He was never drafted in the NFL.
Professional Football Career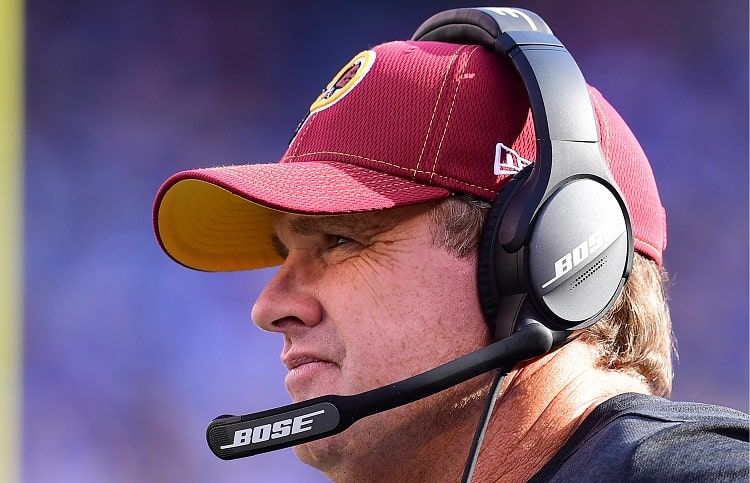 While Gruden never made an NFL active roster right out of college, he took his talents to Europe in 1991. It was there where he played in the World League of American Football for the Barcelona Dragons. After his lone season, Gruden returned to the United States to play in the Arena Football League.
He spent five seasons with the Tampa Bay Storm from 1991 to 1995. At one point, he spent time with the then-Phoenix Cardinals and the CFL's Sacramento Gold Miners practice squads.
During his time with the Tampa Bay Storm, he played quarterback and led the team to four Arena Bowl Titles. In 1992, he was named the Arena Football Leagues MVP. He would garner more honors during his time in the Arena Football League, winning the 1993 ArenaBowl MVP Award. He was named the All-Star MVP that same year.
In 1995, he returned to Europe to play one season with the Scottish Claymores before returning to the Storm for one more season in the Arena Football League. The 1996 AFL season was his last before returning to the league after a six-year absence to play for the Orlando Predators.
Coaching Career
Arena Football League (First and Second Stints)
Gruden's coaching career began in 1997 when he became the offensive coordinator for the Nashville Kats in the Arena Football League. His first head coaching gig may have drawn the ire of the Tampa Bay Storm faithful when Gruden. In 1998, Gruden was the head coach of the Orlando Predators.
Under Gruden, the Predators won two ArenaBowl championships, with the first in 1998 and again in 2000. He played one more season as a player for the Predators in 2002 but returned to coaching when his successor Fran Papasedero was killed in a car crash.
Towards the end of his AFL coaching career, Gruden's record was 93 wins and 61 losses, including an 11-7 record in the postseason.
NFL/Third Coaching Stint in AFL/UFL
At the start of the 2002 season, Gruden returned to coaching in Tampa Bay. His brother Jon was named the head coach, and the younger Gruden was recruited as an offensive assistant. In his first year, the Bucs won the Super Bowl. He would stay on the team for the duration of his brother's tenure as the head coach. Jon Gruden was fired from the team in 2008.
During the NFL offseason from 2004 to 2008, Gruden returned to his old position as the head coach of the Orlando Predators. But when the AFL was undergoing reorganization due to bankruptcy, the Predators had suspended operations.
But it didn't take long to get back on his feet when Jim Haslett recruited him as the offensive coordinator for the United Football League's Florida Tuskers. When Haslett left the team to return to the NFL as a member of the Washington Redskins coaching staff, Gruden took over the head coaching duties.
But the stint didn't last long as Gruden made a return to the NFL. He joined the Cincinnati Bengals as the offensive coordinator under head coach Marvin Lewis. The team was in the process of moving on from Carson Palmer, who was traded to the Cardinals later on in the season. This gave Gruden the opportunity to develop the Bengal's young quarterback in Andy Dalton.
The following year, Gruden was being considered for three different head coaching positions. At one point, the Indianapolis Colts offered him a head coaching job but he declined it. Instead, Gruden stayed on as the offensive coordinator signing a three-year extension. The following year, Gruden was interviewed for a head coaching gig for the Eagles, Chargers, and Cardinals.
In Gruden's three years as offensive coordinator, the Bengals appeared in three consecutive playoffs as a wild card team (losing all three). In 2013, the Bengals had secured the AFC North title.
Head Coach of the Washington Redskins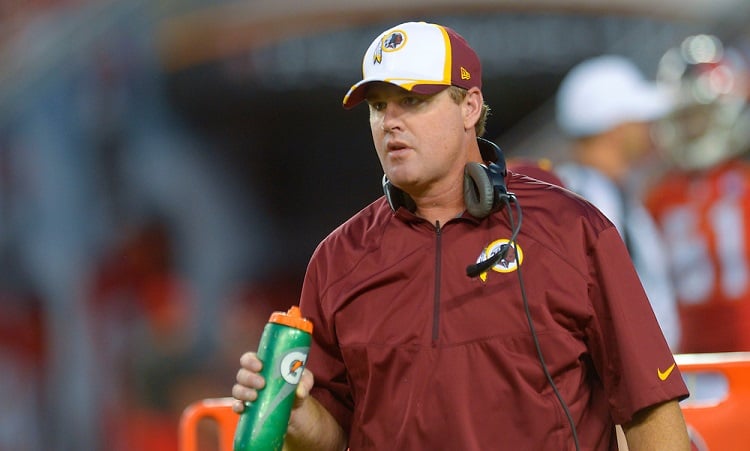 After being a highly sought-after candidate for various head coaching positions, Gruden finally landed one in 2014 when the then-Washington Redskins hired him to replace Mike Shanahan.
He signed a deal that was 5 years and $20 million. The team finished 4-12 in his first season but turned things around the following year finishing up 9-7 and NFC East Champions. They lost the wild card round to the Green Bay Packers.
After the 2015 season, Washington did not repeat its successful season and finished third in the NFC East for the next three seasons under Gruden. They finished 8-7-1 in 2016 and 7-9 both in 2017 and 2018.
Gruden was fired after the Redskins started 0-5 in the 2019 season despite signing a two-year contract extension. As of 2021, Gruden's head coaching record stands at 35 wins, 49 losses, and one tie, including a record of one playoff loss.
Offensive Coordinator for the Jaguars
Less than three months after being fired by the Redskins, Gruden was hired by the Jacksonville Jaguars as an offensive coordinator. He served under then-coach Doug Marrone.
The season was marred by poor performances and issues at the quarterback position. When asked about who would get the starting job, Gruden said that the decision rested in the hands of Marrone. At one point, then-starting quarterback Gardner Minshew was benched in favor of journeyman Mike Glennon.
The team finished the season with the worst record in the league, with only one win. The entire coaching staff, along with Gruden, were fired as a result.
Role in Washington Football Team Investigation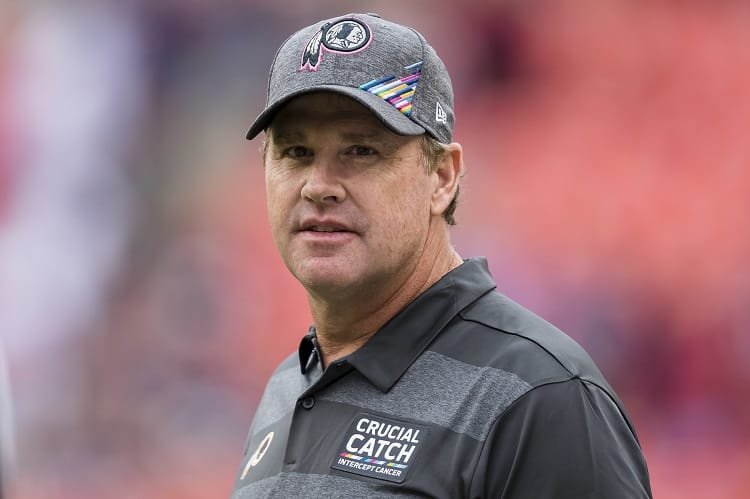 Recently, the now Washington Football Team had been under investigation for numerous allegations, including being a toxic workplace for its employees. The investigation into the team also uncovered an unrelated issue regarding Jay's brother Jon.
Despite Jon's non-association with the Washington Football Team, emails containing racial, homophobic, and misogynistic comments were uncovered. As a result, Jon Gruden resigned as the head coach of the Las Vegas Raiders.
As for Jay's involvement, he states that he was never contacted by investigators. He said that he wasn't aware of what was going on once he left the team in 2019.
He stated if anything happened during his tenure, it was between owner Dan Snyder and then General Manager Bruce Allen. In an interview with NBC Sports, Gruden said that he was mostly focusing on his job as the coach in Washington during his time as the coach.
He also said despite the investigation unintentionally uncovering his brother's emails, he says that he plans on supporting him in the future.
What's Jay Gruden Doing Now?
As of 2021, it may seem like Gruden's coaching career may be on hold. There has been no formal declaration that he is done with coaching. However, Gruden is said to be on the hunt for broadcasting jobs on several networks.
He recently auditioned for a spot on Fox Sports. No word yet on whether or not how it went for him. According to Sports Illustrated's Chris Russell, Gruden may be best suited for a studio role because of his ability to be witty and make people laugh.
Will we see Jay Gruden yuck it up with Terry, Howie, and the rest of the Fox crew in the future? Only time will tell. However, he might get himself into quite a broadcast rivalry with a fellow broadcaster.
In a New York Post report on February 7, 2021, Gruden took a shot at Tony Romo when the latter earned a $180 million contract. Romo's ability to predict plays before the snap has wowed his employers enough at CBS to reel in the big contract.
Gruden criticized Romo's prediction ability as overblown. 'I could do it every time. And Romo is right 30 percent of the time. I mean, it's pretty obvious. No one talks about the times where his predictions were wrong.
But when he's right, he's a genius." Gruden's '30 percent of the time' jab may not be far off the mark. Except that 30 percent of Romo's predictions were off-target, according to a report from the Wall Street Journal.
Gruden also spent time taking shots at his former boss, Dan Snyder. He said that Snyder would 'come off his yacht and make the draft pick.' He also seemed to have blamed Snyder for the numerous problems that had plagued the team during his head coaching tenure.
One of those issues was when Snyder elected to pick quarterback Dwyane Haskins Jr. against Gruden's wishes. Despite this, Gruden called Haskins a good quarterback but was stunned to see the team let the player go early on in his career.
The WFT released Haskins after a single season after a string of off-the-field incidents. The former Ohio State product is now a member of the Pittsburgh Steelers.
Gruden claimed that while the need for a quarterback in Washington had to be addressed, he didn't think Haskins getting drafted that high was a good idea.
Gruden had mentioned that he was interested in choosing two defensive players, including Montez Sweat, who was later drafted by the team with the 26th overall pick. Gruden also had Darnell Savage on his radar, but the Green Bay Packers drafted the cornerback.
Gruden added that he was given every opportunity to succeed in Washington during his time as head coach. He said that he failed to get it done. He stated that he wished that he got more for Kirk Cousins to stay with the team, but the quarterback's efforts had failed.
While Gruden is sitting out the 2021 season with the intent of getting into broadcasting, no word yet on if a coaching job will head his way. If and when it does, Gruden may want to learn from the mistakes he claimed to have made during his time as the Washington coach.
Jay Gruden Family and Relationships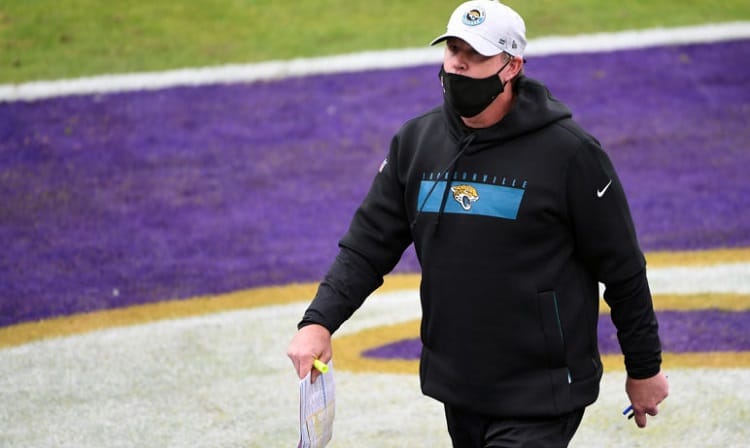 Jay Gruden is the son of Jim and Kathy Gruden. He has two brothers. Jon Gruden recently served as the Las Vegas Raiders head coach. Jay also has a brother named James, who is currently a radiologist in New York City. He is presently married to Sherry Gruden, and the couple has three children; Jack, J.J., and Joey.
Jay Gruden Net Worth and Salary
As of 2021, Jay Gruden's estimated net worth is around $12 million. During his tenure as head coach, his salary was estimated at around $5 million per year.
Jay Gruden Memorable Quotes
"When you coach against him, you feel like he's getting all the calls."
"He can burn my jersey at midfield for all I care. It won't change the memories that I have."
"Dan Snyder would come off his yacht to make the draft pick."
Jay Gruden FAQ
Question: Is Jay Gruden Related to Jon Gruden?
Answer: Yes. Jay Gruden is the younger brother to Jon. The pair have served as coaches for the Tampa Bay Buccaneers from 2002 to 2008. They both won the Super Bowl as coaches in their first season.
Question: What Team is Jay Gruden with Now?
Answer: At the moment, he is not coaching. His previous team was the Jacksonville Jaguars, where he served as the offensive coordinator.
Question: Does the Arena Football League Still Exist?
Answer: Unfortunately, the Arena Football League folded completely in 2019. Had the league stayed intact, there may have been the possibility that Gruden may have returned to coaching upon his dismissal from his head coaching job in Washington.
However, there is a similar league as of today known as the Indoor Football League. While the concept may be the same, Gruden's chances of coaching may lie there if such an opportunity presents itself.
Question: Are there NFL Head Coaches that Have Served Under Jay Gruden?
Answer: There are no NFL head coaches or previously serving coaches that had served under Jay Gruden during his tenure as head coach in Washington.
Question: Which NFL Head Coaches Did Jay Gruden Serve Under?
Answer: Jay Gruden served under three different head coaches. Aside from his brother Jon in Tampa Bay, Gruden was offensive coordinator of the Cincinnati Bengals under Marvin Lewis and for the Jacksonville Jaguars under Doug Marrone.