Latest posts by Justin Caldwell
(see all)
Antoine Devon Walker is a retired professional basketball player. Walker was drafted sixth overall by the Boston Celtics in the 1996 NBA draft. Antoine played college basketball for the University of Kentucky before spending twelve years in the NBA, from 1996-2008. In addition to the Celtics, Walker played for the Dallas Mavericks, the Atlanta Hawks, the Miami Heat, the Memphis Grizzlies, and the Minnesota Timberwolves.
He spent a few years playing in the NBA Development League before retiring for good in 2012. Walker was a three-time All-Star in the NBA, won the NCAA basketball championship with the University of Kentucky in 1996, and won the NBA championship with the Miami Heat in 2006.
Antoine Walker Quick Facts
Full Name: Antoine Devon Walker
Birth Date: August 12, 1976
Birth Place: Chicago, Illinois
Nick Name: 8-ball, Employee Nuber 8, Toine, Toine-Juan
Nationality: American
Siblings: Tobias Walker (Brother), Jarvis Walker (Brother), Darius Walker (Brother), Kenosha Walker (Sister), Tywanna Walker (Sister)
Children: Alana Walker, Crystal Walker
Partner / Spouse: Evelyn Lozada (Separated)
Profession: Professional Basketball Player
Salary: Retired
Net Worth: $400,000
Social Media: Twitter – @WalkerAntoine8
Awards:

1996 NCAA Basketball Champion (Kentucky)
1996-97 NBA All-Rookie First Team (Boston Celtics)
1998, 2002, 2003 NBA All-Star
2005-06 NBA Champion (Miami Heat)

Last Updated: 6/18/21
Antoine Walker Birthplace and Early Life
Born in Chicago, Illinois, Antoine Walker showed early signs that he was dedicated to basketball. He constantly trained to improve his skills in order to attain his dream of playing in the NBA. Walker was a student at Mount Carmel High School, where he played hoops next to future NFL player Donovan McNabb.
Due to his outstanding performances on the court, Walker was offered an athletic scholarship to play basketball for the University of Kentucky. There, he played under the tutelage of head coach Rick Pitino and quickly asserted himself as a player to be reckoned with. He earned a starting spot his freshman year and was named the SEC tournament's MVP in 1995.
Walker was an integral cog in the 1996 Kentucky team that won the national championship. He averaged 15.2 points and 8.4 rebounds throughout the year, earning first-team All-SEC honors. At the end of the 1996 season, Walker chose to forego his remaining college eligibility and enter the NBA Draft. The Boston Celtics selected him with the sixth overall pick.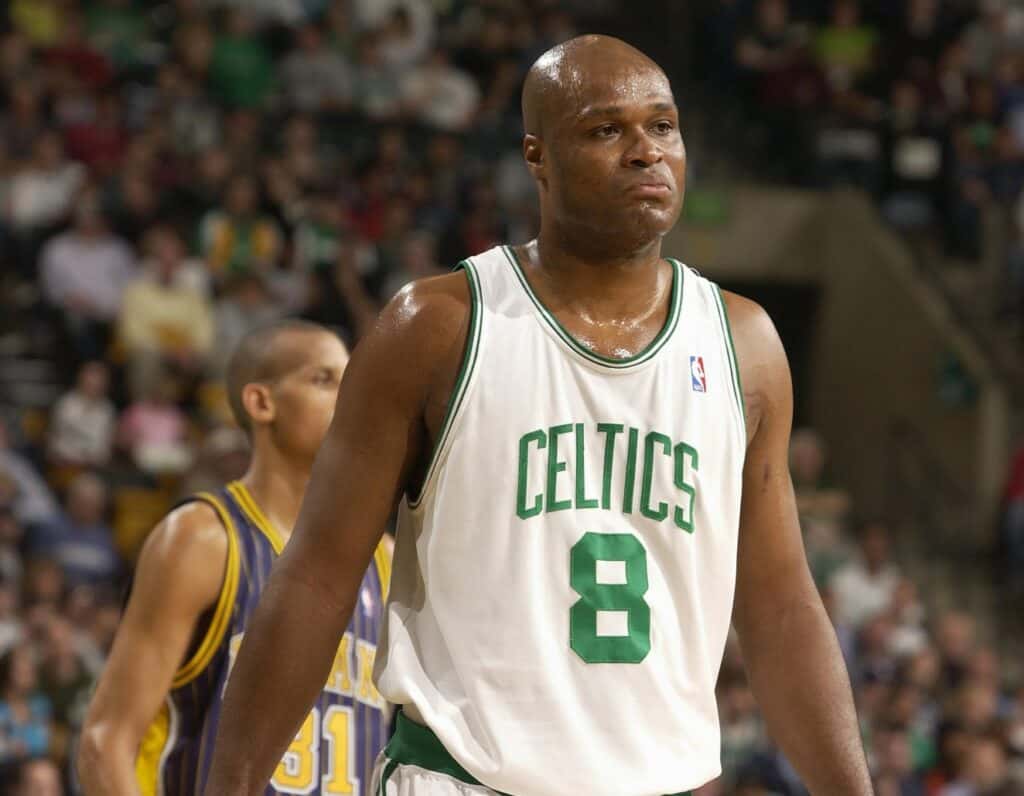 Antoine Walker Professional Career
At 6'8" and 230 pounds, Walker grew into a monster of a power forward. Despite his size, Walker's game started to revolve primarily around shooting three points. Critics point out, however, that many of these shots were forced or heavily defended. Still, his presence was felt immediately for a flagging Celtics team, as he averaged 17.5 points per contest throughout his rookie campaign.
Reunited with Pitino
Before his second year started, Walker was reunited with his college coach, Rick Pitino, who would be installed as the new Celtics head coach. Coincidence or not, Walker's numbers drastically improved as he saw his numbers increase to 22.5 points per game. Even though he was unable to guide his team to the playoffs, Walker was selected for the NBA All-Star game.
'98 would prove to be a year full of ups and downs. While he was on the court, Walker was a productive part of his team. Unfortunately, he missed nearly half the season with injuries. In his absence, eventual Hall of Famer and 10x All-Star Paul Pierce stepped in to guide the team. The team once again missed the playoffs, but the future looked bright with Pierce and Walker leading the way.
To the chagrin of the Celtic fanbase, 1999 was not much of an improvement. Even with Walker healthy and Pierce continuing to improve, the team couldn't quite get over the hump. Both Pierce and Walker averaged close to 20 points per game, and each narrowly missed the NBA All-Star game. However, the team wound up with an overall record of 35-47, once again missing the post-season.
2000 was once again disappointing even though Pierce and Walker took another step forward. The pair continued to work together, mature, and gel as both teammates and scorers. Unfortunately, the two had to carry the team on their shoulders as no other player averaged 10 points a game. Walker and Pierce averaged more than 23 points per game each.
Pitino Departs
Before the 2001 season, Rick Pitino was ousted as head coach. Jim O'Brien was hired as his replacement. Whether it was the change in the head coach or simply the two stars coming into their own, the Celtics suddenly became a force in the Eastern Conference. Pierce continued to terrorize the league with his shooting capabilities while Walker shifted his focus more to grabbing rebounds. Both were part of the 2001 All-Star team.
As a result, the Celtics improved their record to 49-33, earning themselves a spot in the postseason as the number 2 seed in the Eastern Conference. It marked the first time in seven years that Boston's basketball team was in the playoffs. While the fans were happy to be back in the postseason, the Celtics wanted more, and it showed. The first two rounds of the playoffs were merely the appetizer as Boston cruised through the 76ers first, dispatching them in 5 games.
Boston gave the Detroit Pistons the same treatments as they moved to the 2nd round of the playoffs. The Celtics bounced Detroit in 5 games, moving on to the Eastern Conference finals. Unfortunately, the Celtics run came to an end as Jason Kidd, and the New Jersey Nets sent Boston home after six games.
Both Walker and Pierce made the All-Star team in 2002. Unfortunately, their season once again ended earlier than they wanted in the playoffs. Even though their record wasn't as good as it was in 2003, the Celtics were able to win 44 games against 38 losses, which was good for the sixth seed.
Even though Pierce had taken over as the leading scorer for the Celtics, Walker was still getting plenty of points, posting more than 20 a game. While Boston was able to up-end the 2nd-seeded Pacers in the opening round of the playoffs, Jason Kidd and the Nets once again ended The Celtic's season, sending them home in 4 games.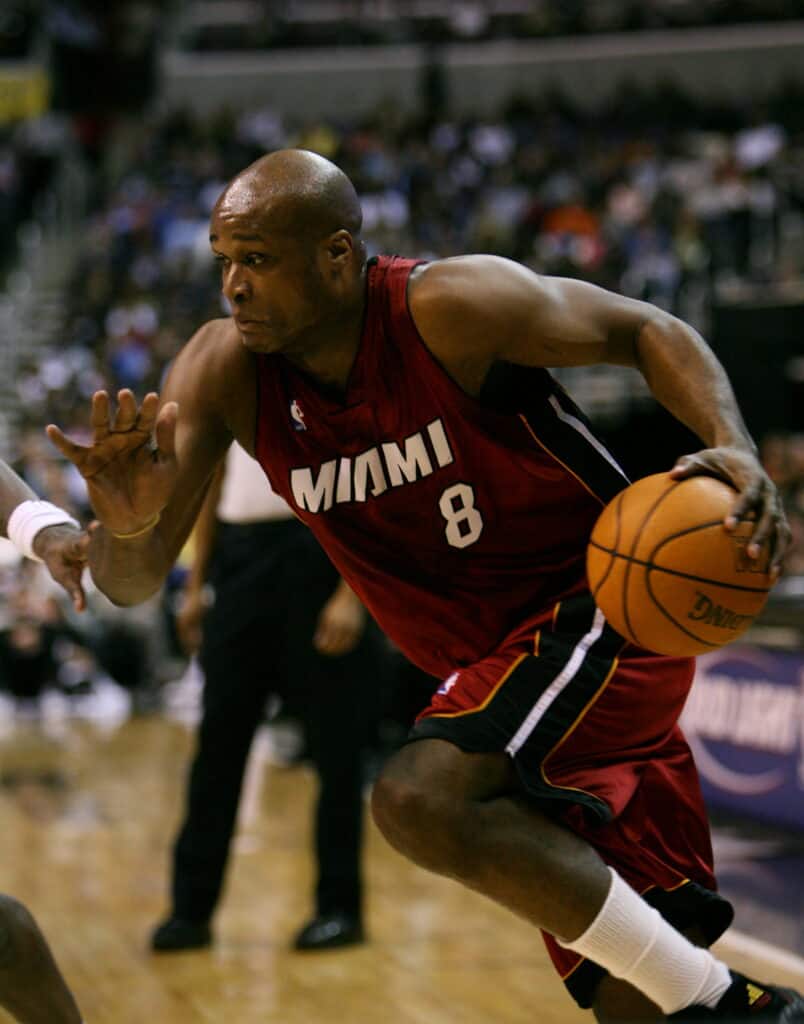 Parting Ways
In 2002, the Celtics made a significant change, choosing to part ways with Antoine Walker. The team made a deal that sent Walker to the Mavericks. At the time, the Mavericks were a solid team, let by Steve Nash and Dirk Nowitzki. While both Walker and the team performed well in 2002, his unfamiliarity with his teammates and splitting time with Nowitzki and Nash resulted in a drop in his scoring average to around 14 points per game.
Dallas chose to move on from Walker, sending him to a less than ideal Atlanta team. The Hawks were an inept 13-69 that year. However, Walker's numbers increased back to 20 points per game. Unfortunately, the numbers were wasted on a horrendous team. On the flip side, a year and a half after he was traded to Atlanta, the Celtics came calling.
Reunited
In the middle of the 2005 season, the Celtics sent Gary Payton to the Atlanta Hawks, reuniting Walker and Pierce in Celtic green. It took a while for the pair to refamiliarize themselves with one another, but once they did, they were able to win enough games to earn the three seed in the Eastern Conference playoffs.
However, a championship eluded the pair once again as they were bounced from the postseason in a tense seven-game series with the Indiana Pacers. Led by Reggie Miller and Ron Artest, the Pacers dispatched the Celtics and moved on to the next round. As the season ended, Boston once again decided it was time to ship Walker elsewhere.
Becoming a Champ and Retiring
However, this time the Celtics did him a favor by sending him to the Miami Heat. Antoine became one of the best 6th men in the league by the end of the 2006 season. Even though he came off the bench, he led the Heat in 3-pointers made for the entire year. He rounded into form when the playoffs rolled around, scoring 23 points to close out the Jason Kidd-led Nets.
Walker was a vital part of the team as it made its way through the playoffs, winning the NBA Championship in 6 games. Even better for Walker, the series was against his former team, the Dallas Mavericks, that sent him to Atlanta. Finally, Antoine Walker had the championship ring that had eluded him for so long.
From that point forward, Walker suffered the natural decline that all professional athletes eventually succumb to. Injuries, age, and the beating of an 82-game schedule began to take their toll on his body. Finally, he was traded to the Minnesota Timberwolves, where his numbers continued to taper off. During the 2007-2008 season, Walker decided to retire after 12 seasons in the NBA.
Antoine Walker Video [YouTube embed w/top games, highlight reels, etc..]
Antoine Walker's career-high points game versus Wizards in 1998.
Antoine Walker's in the 2006 NBA Finals Dallas – Miami
Antoine Walker Retirement and Post Professional
Even though Walker made plenty of money throughout his professional career, his financial behavior during and after basketball should serve as a cautionary tale for anyone who suddenly comes into money. It's estimated that throughout his time in the NBA, Walker earned over $110 million. Unfortunately, all that money is gone.
Where did it go? Expensive cars, high-dollar houses, and lavish vacations are just a few of the culprits. Additionally, it was no secret that Walker spent plenty of time at the casino. These and a number of other poor financial decisions led to Walker filing for bankruptcy in 2010 – just a few short years after his retirement.
Walker found himself upside on many of his homes and was forced to sell them to help pay his debts. Even though he lost his entire fortune, Walker worked hard to clear his debts and did so in a matter of years.
Today Walker makes a living working as an analyst for the South Eastern Conference (SEC) network. He helps break down game film while analyzing players and their potential. Walker's input is invaluable as he himself once played the game at its highest level.
Antoine Walker Family
Walker has never been legally married and is currently reported as not being in a relationship. However, at one point, he was attached to Evelyn Lozada. Lozada was one of the stars of the reality television show "Basketball Wives." There were reports that the pair were engaged in 2000 and remained together for a decade before deciding to go their separate ways.
During their time together, Walker and Lozada had two daughters: Crystal and Alana Walker. Unfortunately, Lozada left Walker in the midst of his financial struggles, which led to feelings of betrayal and hurt. Walker has claimed that Lozada left him during one of the lowest points of his life.
Since the couple separated, there have been no reports suggesting that Walker has been with anyone else. Perhaps he hasn't found anyone to his liking, or perhaps Walker has simply chosen to keep his private life out of the public eye.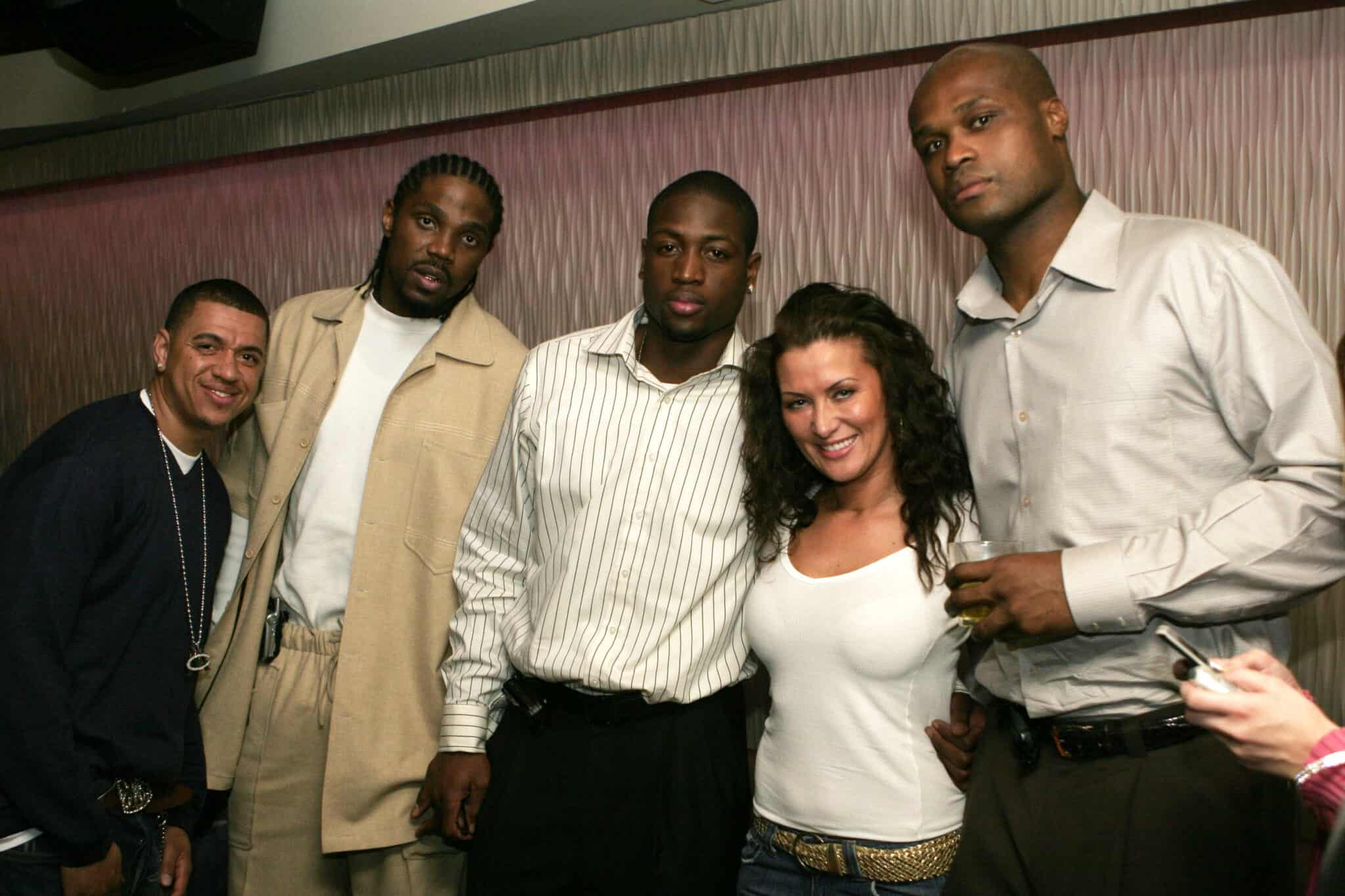 Antoine Walker Net Worth and Career Earnings
Walker is a retired NBA player, so the expectation is that he has earned millions of dollars, which is true. However, Walker is no longer worth as much as he was while he was playing in the NBA. Throughout the course of his career, Walker earned nearly $110 million from his salaries, allowances, and bonuses. Unfortunately, he lost most of his money and is now estimated to be worth somewhere between $250,000 and $400,000
Antoine Walker Famous Quotes
Reporter: "Why do you shoot so many threes?"
Walker: "Because there are no fours."
FAQs
Is Antoine Walker in the NBA Hall of Fame?
Walker is not a member of the NBA Hall of Fame. He was considered a solid starting lineup player throughout his NBA career, although he was never able to break into the upper echelon of 'great' players.
How much did Antoine Walker make as an NBA player?
Walker was a good basketball player and was paid accordingly. During his 12-year stint in the NBA, Walker made close to $110 million, which doesn't include any money he made from endorsements.
What NBA teams did Antoine Walker play for?
Walker played for five teams during his tenure in the NBA. They include:
Boston Celtics (1996-2003, 2005)
Dallas Mavericks (2003-2004)
Atlanta Hawks (2004-2005)
Miami Heat (2005-2007)
Minnesota Timberwolves (2007-2008)
====
Research Citations
Continue Reading Related Bios from NBA Personalities: