Latest posts by Marjorie Herrera
(see all)
Russell Wilson is a professional football player who has been the Seattle Seahawk's treasured quarterback since 2012. Wilson and the Seahawks won the XLVIII Super Bowl on February 2, 2014.
His accuracy and ability to sneak within his rivals on the football field have made the #3 an invaluable player for Seattle. The world recognizes Wilson because of his life with Seattle and his Super Bowl and his constant flirting with professional baseball, his work ethic, and his marriage to the famous singer Ciara. The quarterback is also a businessman. He recently launched a signature clothing line by the name of 3Brand.
Russell Wilson Quick Facts
Full Name:

Russell Carrington Wilson

Birth Date:

November 29, 1988

Birthplace

: Cincinnati, Ohio

Nickname:

Mr. Unlimited

Nationality:

American

Siblings:

2 – 1 sister, 1 brother

Children:

3 – 2 of his own, 1 stepson

Spouse:

Ciara Wilson

Profession:

Football player

Salary:

53M

Net worth:

120M (2016)

Social media:

@DangeRussWilson (Instagram and Twitter)

Awards:

Super Bowl Champion (2014), Pro Bowl team (2012-2015, 2017-2020), NFL passing rating leader (2015), NFL passing touchdowns leader (2017), Walter Payton NFL Man of the year (2020).

Last Updated:

06/29/2021
Russell Wilson's Birthplace and Early life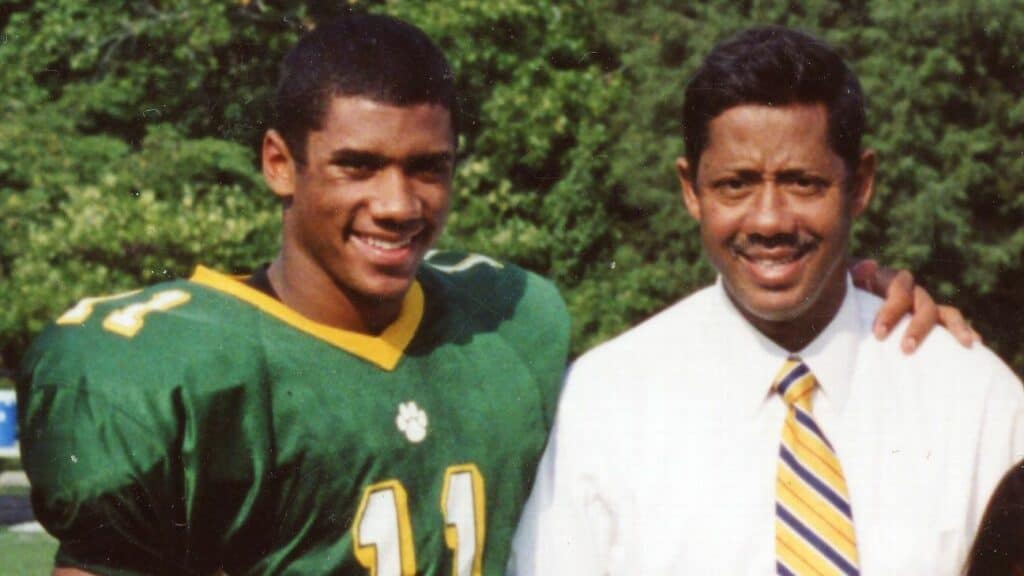 Russell Wilson was born in Cincinnati, Ohio, to lawyer Harrison Wilson III and nurse Tammy T. Wilson. The Seahawks quarterback has one sister, Anna Wilson. She was a remarkable basketball player for Stanford University, is an NCAA champion, and a FIBA U17 gold medalist. Russell's brother, Harrison Wilson IV, also used to play football in college but did not pursue a professional career in sports. At the moment, he is the co-founder and president of Limitless Minds.
Even though Russell and his family moved to Richmond, Virginia, when he was just a one-year-old baby, he has a great love for Cincinnati and sometimes visits his old home and his parent's friends. His family had a tight relationship with Reggie Williams. The Wilsons would go to the stadium to see him and the Cincinnati Bengals play.
Russel's father was also a football player in college, so a mix of all these experiences led Russell to play football as well. Even though Mr. Wilson died due to diabetes in 2012, the Seahawks star still sees his father as a great inspiration. Mrs. Tammy Wilson also led an exemplary life in order to educate her children. She even helped build portable hospitals in Seattle during the COVID-19 pandemic.
Russell went to the Collegiate School in Richmond, Virginia. The school keeps Wilson close to its heart because he was very participative, not only in football but also in baseball, basketball, and as a class president in his senior year. According to the Collegiate School, from 2004 to 2006, Wilson had total yardage of 8,077, total passing yardage of 6,291, 105 touchdowns, and 73 touchdown passes.
Wilson went to the North Carolina State University from 2007 to 2010 and earned a Bachelor of Arts degree in communication. It was obvious that Russell would play football while studying in North Carolina.
He was part of the Academic All-ACC selection twice and was the ACC Rookie of the Year and team MVP back in 2008. He had a total of 8,545 passing yards and made 76 touchdown passes (the second-best mark in the history of the school). North Carolina State University even asked Russell to address the students in the graduation ceremonies last May.
Russel's brief but significant career in baseball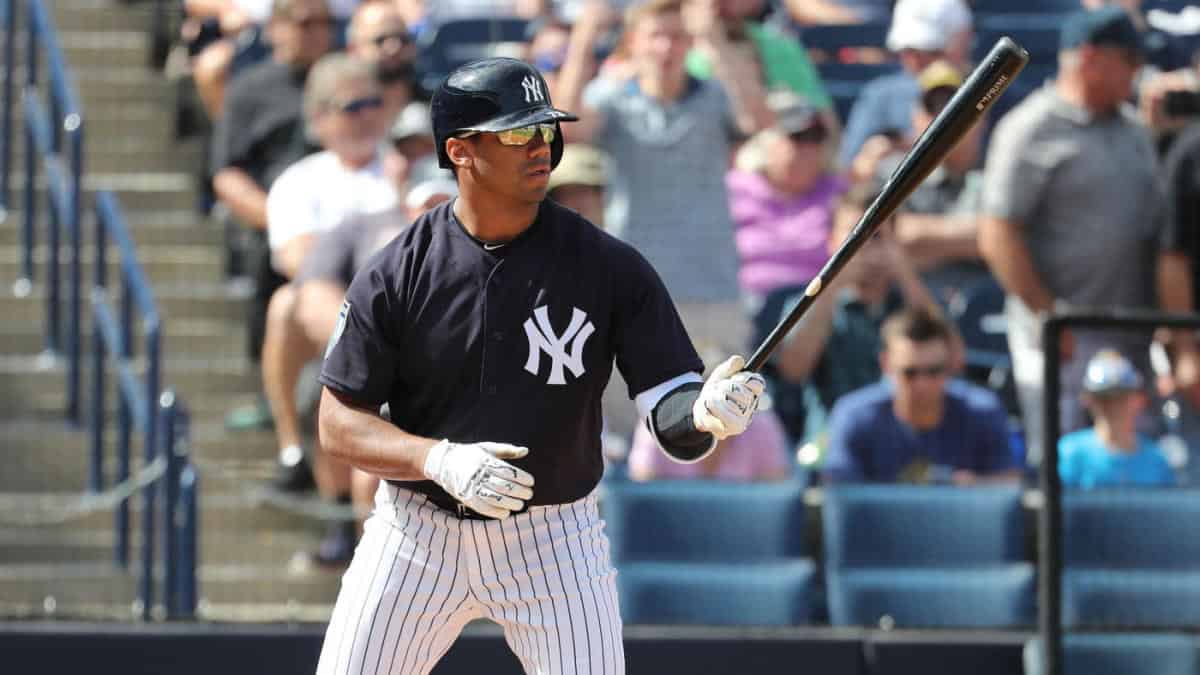 After Russell graduated from NC State, he wanted to know what baseball had in store for him, so he decided to attend the Colorado Rockies' spring training. He was picked in the fourth round of the 2010 draft. The Rockies even gave Russell a USD 200,000.00 bonus, and he acted as a second baseman in 32 games for the Tri-City Dust Angels, which at the moment were affiliated to the Rockies.
Wilson also played in 65 games for the Asheville Tourists, the Minor League Baseball team that was also affiliated to the Colorado Rockies. In June 2011, Russell finally made a decision about his future in sports: baseball would not be his priority any longer. But the fact that it was not a priority did not mean he would leave baseball completely aside. The second baseman attended several training seasons and was still moving around between teams: the Texas Rangers from 2014-2015 and Trento Thunder (New York Yankees' affiliate) in 2018.
Wilson's last time in college football
Since Russell graduated in 3 years from North Carolina State University, he still had one year left to play in college if he wanted to, so he decided to go to the University of Wisconsin-Madison in 2011.
Wilson and football clicked once again. He won the Griese-Brees Big Ten Quarterback of the Year award, which is given by coaches and media of the Big Ten Conference. Wilson had many recognitions while playing with the Badgers: single-season record for the University of Wisconsin with 33 passing touchdowns, he set a single-season FBS record for passing efficiency, Wilson also holds the school record for single-season passing yards (3,175), and 40 touchdowns — Wilson tied the university's record.
Russell Wilson's Professional Career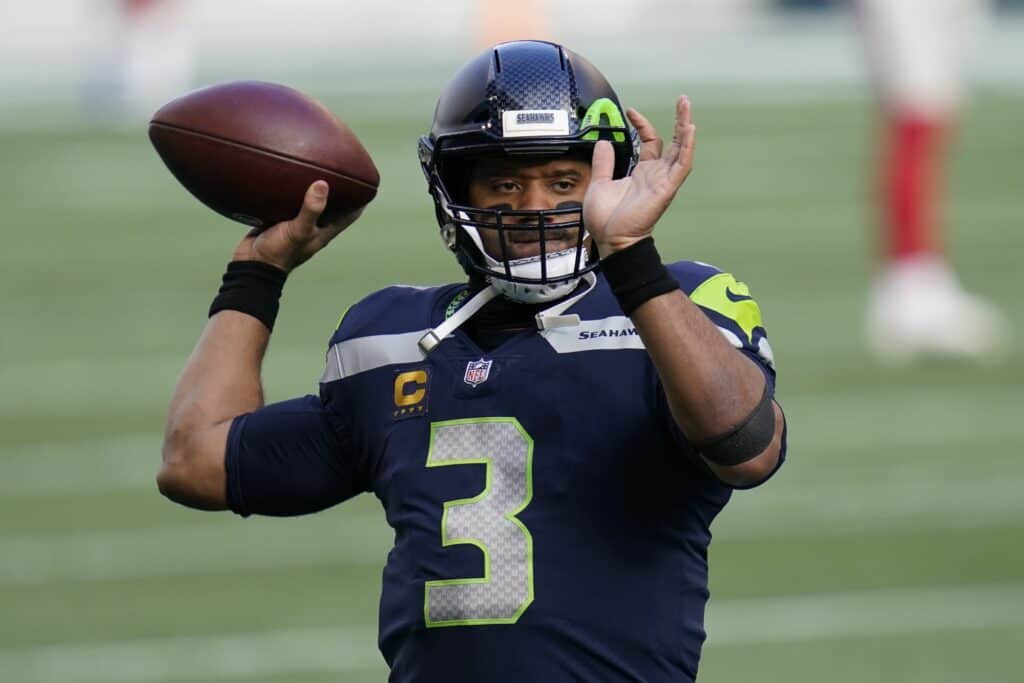 After putting baseball aside, it was time for Russell to focus on being picked by a team that would need him as much as he would need it, and that team would be the Seattle Seahawks. Wilson played his first regular-season game with the Seahawks in September 2012. While Russell's first game turned out to be a 20-16 loss against the Arizona Cardinals, the following would prove Russell's worth to the team and the fans.
He won all sorts of awards throughout his first season: Rookie of the Week (on week 10), NFC Offensive Player of the Week and Player of the Week, December's Rookie of the Month, and 4th in the NFL ranking in terms of passing rating. Wilson and the Seahawks were able to play in the postseason but could not beat the Atlanta Falcons so they could play in the NFC Championship Game.
For Wilson and the Seattle Seahawks, 2013 was a dream that turned into a reality. They won the first 4 games, lost the 5th but won the next seven. By the end of the regular season, Seattle had only lost 3 games. The rest of them were won quite comfortably—only 2 of these games required Over Time. The Seahawks won the NFC Championship to San Francisco and crushed Denver 43-8 in the Super Bowl. The quarterback had several accomplishments under his name during that game: 206 yards (passing), 26 yards (rushing), 2 touchdown passes.
In the following season, Wilson's Seahawks were again in a more stable position among the top teams. They won the NFC Championship Game against Green Bay but lost the Super Bowl to the New England Patriots.
The following years would be uneventful for Seattle. The Seahawks managed to reach the post-season stage every year from then on, except in 2017. But they were not close to winning the Conference in any of them.
Russell Wilson's Best Moments
Russell Wilson's first years of precision and devotion to the team made him able to push the Seahawks into something more than just reaching post-season stages. He is a very complete quarterback with killer passes and calculated touchdowns. Here are a few of his best moments from 2012-2015
Russell Wilson's 2020 season had great numbers: over 4,386 passing yards and 42 touchdown passes. Now, a video with his best moments in the season, shaking off the defense like they are invisible.
Russell Wilson's family: Spouse and kids
Russell Wilson married Ashton Meem in 2012. They met in high school and had a long-distance relationship for a while during college. Meem transferred to North Carolina State to be closer to the quarterback.
They got engaged in 2010 and finally tied the knot in 2012. The couple divorced in 2014. But that was not the end of the quarterback's love life. He met his now-wife and famous singer Ciara in 2015. Ciara already had a baby boy from his past relationship with the rapper Future, but that was not an obstacle in their story. They both gave love a chance and married in 2016. They now have 2 children of their own: Win Harrison Wilson and Sienna Princess Wilson. The Seattle Seahawks #3 loves his stepson Future Zahir Wilburn as if he were his own.
Russell Wilson's net worth and career earnings
In 2016, Russel's publicist told USA Today that the quarterback's net worth was USD 120,000,000.00. According to Spotrac, the quarterback's career earnings with the Seattle Seahawks amount to more than USD 162,000,000.00.
Frequently asked questions
Question: Where is Russell Wilson from?
Answer: Russell Wilson was born in Cincinnati but lived in Richmond, Virginia, for most of his childhood and throughout high school. He also lived in North Carolina for 3 years during college and for many more in Seattle.
Question: When was Russell Wilson drafted?
Answer: The Seahawks drafted Russell Wilson in April 2012 — the third round of the 2012 NFL Draft (75th overall).
Question: When did Russell Wilson get Married?
Question: Will Russell Wilson make the Hall of Fame?
Answer:
Several sources
and
colleagues
believe Wilson is already building a Hall of Fame curriculum, and they are more than sure that he will get inducted as soon as he retires. Given his outstanding stats, he will certainly earn that spot.
Question: Will Russell Wilson stay in Seattle?
Answer:
In a recent press conference
, Wilson stated that he has not requested a trade and that he has always wanted to play for Seattle. "The reality is that I am here. I'm here to win, and I'm here to win it all."
QuestionWho is Russell Wilson?
Answer: Russell Wilson is a professional football player who has been the Seattle Seahawk's treasured quarterback since 2012. The Seahawks and Wilson won the XLVIII Super Bowl on February 2, 2014. His accuracy and stealthiness on the football field have made the #3 an invaluable player for Seattle.
He has been involved in professional baseball, is known for his great work ethic, and is married to the famous singer Ciara. The quarterback is also a businessman. He recently launched a signature clothing line by the name of 3Brand.
References