Latest posts by Pro Sports Bio Team
(see all)
Albert Belle was considered to be one of the most feared hitters in the Majors during the 1990s. We often talk about what might have been. When Albert Belle left the Cleveland Indians after, he was replaced by a heavy hitter named David Justice. What if the two teamed up then? Could Cleveland have won the World Series in 1997?
Belle was destined to be an excellent ballplayer even before he made his debut for the Indians in 1989. He achieved honors at both the high school and college levels. During the second year of his professional career, Belle was dealing with a personal, off-the-field issue. But the following year was the beginning of a turnaround for him.
Belle began banging home runs, even to the point where he belted 50 in a single season. Even though he outpaced his MVP rival statistically in 1995, he lost out on the prestigious MVP award. This was an eyebrow-raiser for many, proving that sometimes the best stats may not always land you the big prize.
During his career, Belle may have been a hard hitter. But he might have gotten himself into some trouble with the media. He wasn't necessarily fond of them, and the media themselves may have thought the feeling was mutual. For this possible reason, it may be why Belle had not snagged an MVP award or even a spot in Cooperstown. Even one high-profile sportswriter called him a big mean surly jerk later on in Belle's career.
When a hip injury ended Belle's career before the 2001 season, Belle proved that he still had the big bat. His eventual final game could not have had a more fitting end. If you were an Orioles fan, you might remember his last at-bat where he knocked it out of Camden Yards.
Albert Belle wrapped up his career with 381 home runs, a batting average of .295, and 1239 runs batted in. After his long tenure with the Cleveland Indians, he spent two seasons with two different teams. But to Indians fans, he is considered one of the franchise's legends. What has Albert Belle accomplished over his career? And what's he doing now? Let's take a closer look in our full Albert Belle Bio.
Albert Belle Quick Facts
Name: 

Albert Jojuan Belle

Birthdate: 

August 25, 1966

Nicknames: 

N/A

Nationality: 

American

Siblings: 

Terry Belle

Wife: 

Melissa Belle

Profession: 

Baseball Player

Salary: 

$97 million (over career)

Net Worth: 

$25 million

Social Media: 

N/A

Awards:

All-Star (1993, 1994, 1995, 1996, 1997)

Silver Slugger Award (1993, 1994, 1995, 1996, 1998)

AL Home Run Leader (1995)

AL RBI Leader (1993, 1995, 1996)

Cleveland Indians Hall of Fame (Inducted 2016)
Early Years and College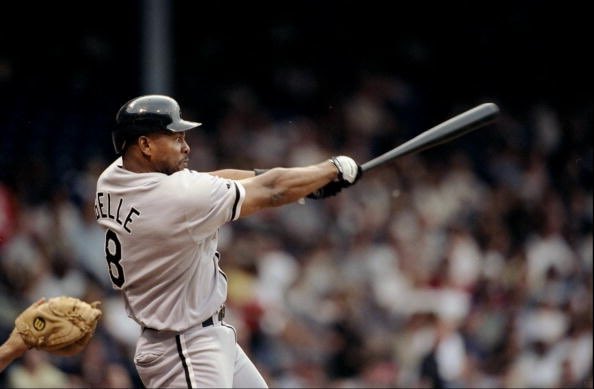 Albert Belle was born in Shreveport, Louisiana, on August 25, 1966. He was born alongside his fraternal twin brother, Terry. Baseball is something familiar with the Belle family. Albert Belle Sr. was a baseball and football coach at a local high school. His mother, Carrie, was a mother teacher. During his childhood, the younger Belle was a boy's scout. He would attain the rank of Eagle Scout.
Belle was an excellent athlete during his time at Huntington High School in Shreveport. He excelled in football and baseball. Aside from his athletic accomplishments, Belle was involved with various extracurricular activities, including the National Honor Society and the Future Business Leaders of America. Belle was vice president of the latter.
He made the all-state baseball team twice and graduated sixth amongst his class. For his accomplishments in baseball, Albert Belle was named as part of Team USA's baseball team in the Junior Olympics in 1984. The team went on to win the silver medal.
Belle went on to play baseball for the LSU Tigers. He made a name for himself during his time with the team from 1985 to 1987. His stats from 1986 to 1987 were 49 home runs, 172 runs batted in, 157 runs, a .670 slugging percentage, and a batting average of .332. In 1986, Belle made the first-team All-SEC and again the following year. During the summer of 1986, Belle played for the Chatham A's in the prestigious Cape Cod Baseball League. He returned the following year to play for the Hyannis Mets.
Belle was seen as one of the best pro baseball prospects. During his junior year, he was suspended after being involved in an incident with a fan that repeatedly threw racial insults at him. That suspension left him out of the College World Series. During that year, Belle's batting average was .349.
Professional Career
Cleveland Indians
After the 1987 season, the Cleveland Indians drafted Belle in the second round of the MLB draft. He made his first Majors debut on July 15, 1989. Belle finished up the season with seven home runs and 37 runs batted in. His batting average was .225, with a slugging average of .394. During the 1990 season, Belle was treated for an alcohol issue and had undergone counseling. Statistically, his season was mostly quiet.
In 1991, Belle wrapped up the season with 28 home runs, 95 runs batted in, a .282 batting average, and a .323 slugging percentage. Albert Belle became one of eight players in the league's history that would achieve 30 home runs and 100 RBIs in eight consecutive seasons.
The others included Babe Ruth, Lou Gehrig, Jimmie Foxx, Manny Ramirez, Alex Rodriguez, Albert Pujols, and Rafael Palmeiro. Aside from swinging the bat, Belle proved himself to be an excellent base runner as well. During the 1993 season, he posted a career-high of 23 stolen bases.
Even when dealing with a hip injury in 1999, Belle managed to steal 17 times. In 1993, Belle secured his first-ever All-Star nod as well as his first of five Silver Slugger Awards. He also led the American lead in RBIs that same year.
During the 1992 season, Belle fell short of an accomplishment that was only achieved by four different baseball players at the old Tiger Stadium. That feat was hitting a home run over the stadium's left-field roof. Belle's attempt failed when the ball hit a light tower and bounced into the stands. Two years later, Belle challenged New York Yankees outfielder Paul O'Neill for the batting title. Belle came up short but by a razor-thin margin in their respective batting average (O'Neill with .359, Belle with .357).
The 1995 season was perhaps Belle's best season in his career. He belted 50 home runs, leading the American League in that category. He also scored 50 RBIs as well. The 1995 season was shortened as the player strike from the previous season was still ongoing. Belle's accomplishment of getting it done in 143 games was considered impressive by many baseball fans, players, and sports journalists alike.
His 1995 season saw him earn consideration for the MVP Award. However, he lost out to Mo Vaughn of the Boston Red Sox. His second-place finish was largely due to his reputation and his dislike for the media. Statistically, Belle outscored Vaughn in almost every category, and both teams made the playoffs. Belle was considered a finalist for the American League MVP award for the next three seasons, finishing in the top three every time but never securing it.
Chicago White Sox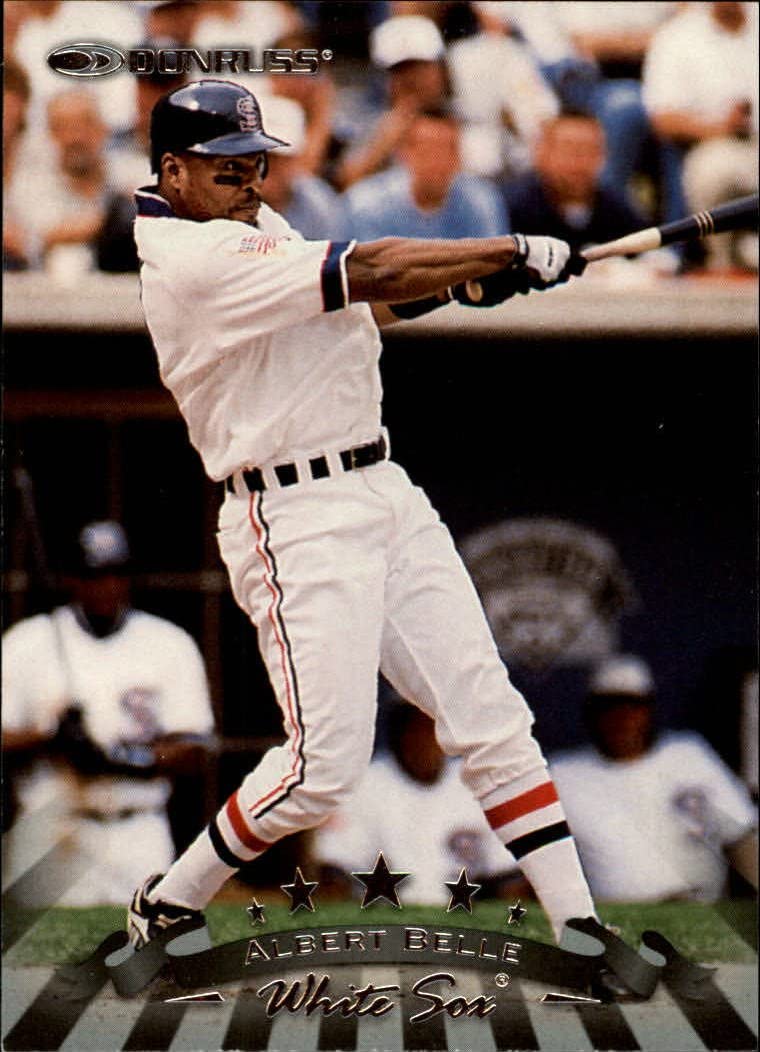 After the 1996 season, Belle left the Cleveland Indians to pursue the free-agent market. He would later sign on with the Chicago White Sox on a five-year, $55 million deal. The contract made him the highest-paid player in baseball, and he was the first to make over $10 million in a single season.
During the two seasons with the White Sox, Belle achieved a 27-game hitting streak during his 1997 campaign. He finished up the season with 30 home runs and 116 RBIs. His batting average was .274, with a slugging percentage of .491.
The 1998 season was almost a repeat of his 1995 season but finished one home run short with 49 (which is the current single-season franchise record). He also drove in 152 runs, which is also a single-season record for the White Sox franchise.
Baltimore Orioles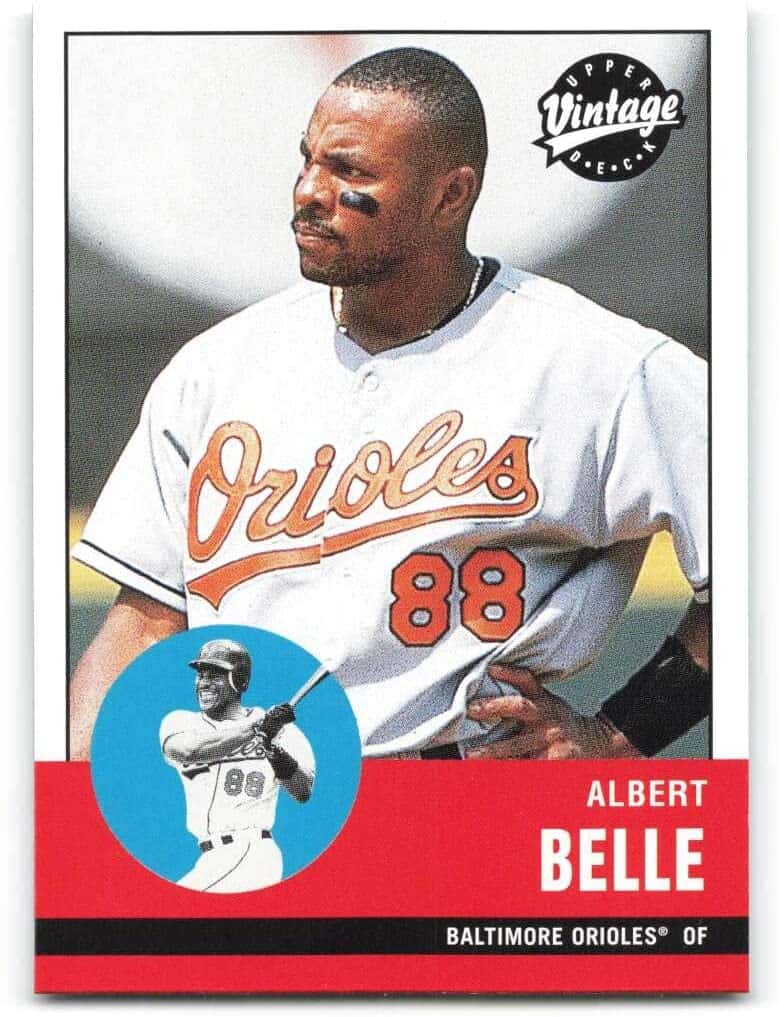 Towards the end of the 1998 season, Belle involved a clause in his contract that was designed to keep him as one of the highest-paid players in baseball. However, the White Sox declined to give him a pay raise. As a result, Belle hit the free-agent market once again. He eventually became the league's highest-paid player after signing a deal with the Baltimore Orioles. The contract was five years, $65 million.
In his first season with the O's, Belle hit 37 home runs and 117 RBIs. His batting average was .297, with a slugging percentage of .541. His 1999 campaign was shortened due to a hip injury. Even with the injury bothering him, he still managed to steal 17 bases. The injury would end up being part of a condition that would eventually end his career the following season.
During his final season in 2000, Belle continued to put his bat to good use. He finished up the season with 23 home runs and 103 RBIs. In his final game on October 1, 2000, his last ever at-bat could have been more fitting. It resulted in a home run during an Orioles home game.
Post Career
Unlike some baseball players that have become broadcasters or coaches after their career, nothing much has been said about what Albert Belle has done since the end of the 2000 season. Despite having an accomplished baseball season, there have been those that have spoken negatively of Belle because of his reputation, especially his dislike for the media.
In 2001, Bill Madden of the New York Daily News stated the following: 'Sorry, there'll be no words of sympathy here for Albert Belle. He was a surly jerk before he got hurt, and now he's a hurt surly jerk. He was no credit to the game. Belle's boorish behavior should be remembered by every member of the Baseball Writers' Association when it comes time to consider him for the Hall of Fame.'
By the sounds of that, Albert Belle likely being inducted into the Baseball Hall of Fame might be a difficult path. His first year of eligibility was in 2006, where he tallied nearly 8 percent of the vote. It was high enough for him to be considered the following year, where his vote count was cut in half. Even though Belle hasn't been inducted into Cooperstown, the Cleveland Indians were able to induct him into their own Hall of Fame in 2016.
Belle made occasional appearances at the Indian's spring training starting in 2012. However, he did not attend the 20th celebration of the team winning the AL pennant in 1995, as well as his induction ceremony for the Indians Hall of Fame.
Even though Belle was dealing with off-the-field issues during his career, he ran into some trouble long after his career. In 2006, Belle admitted to stalking a former girlfriend of his. As a result, he was sentenced to 90 days in jail and five years probation. Belle was arrested for DUI and indecent exposure on March 25, 2018, in Scottsdale, Arizona. The charges were dropped a month later.
Media Appearances
It seems as though Albert Belle seems to be singing a different tune with the media these days. Recently, he has made headlines on his opinion regarding current Angels star Mike Trout. It sounded like he was taking shots at the heavy hitter, saying that he couldn't carry a club. He said that despite putting up 'meaningless stats,' he said it was going to be enough to put Trout in the Hall of Fame.
However, Trout wasn't the only Angel player that Belle has talked about in recent months. Belle also weighed in on Japanese sensation Shoei Ohtani. Belle said that Ohtani had been carrying the team despite batting .270 and striking out 100 times as a batter. He also gave credit where it was due for the pitcher turned to hit machine, ending his remarks by saying, let's see how he finishes up.
Belle currently lives in Arizona and is usually a regular guest on sports radio talk shows in the Cleveland area. It's interesting to hear what he'll say the next time he's on the airwaves.
Albert Belle Family and Relationships
Belle is the son of Albert Sr. and Carrie Belle. He has one brother, Terry, who is his fraternal twin. He married his current wife, Melissa, in 2005. The couple currently has two children.
Albert Belle Net Worth and Salary
Throughout his career, Albert Belle made over $97 million. He became the first MLB player to make over $10 million annually when he signed with the Chicago White Sox in 1997. His current network is $25 million.
Albert Belle Memorable Quotes
"Back in 1987 when they drafted me, The Indians were the only team interested in taking a chance on me, and I made the most of it. Hopefully, they got as much from me as I got from them."
"Going to a new team is like going to a new high school. Nobody knows you. It's a chance to rebuild your image."
"I feel like myself, and the city of Cleveland are in the same boat. We're made for each other."
"RBIs win games, and they can make you a ton of money."
"It's going to be tough. I'm not really considered a media darling."
"I look back over my career, and I almost pissed it away. I got a second chance, and I've made the most of my opportunity. I play every game like it's the last game of my career."
"You can do 99 great things, and if you do one bad thing, the one bad thing outweighs the other 99."
Albert Belle Bio FAQs
Question: What ended Albert Belle's career?
Answer: Albert Belle suffered a hip injury during his time with the Baltimore Orioles. It ended up being a condition known as degenerative arthritis. Because of this, Belle retired before the 2001 season.
Question: Are the Orioles still paying Albert Belle?
Answer: Even though Belle retired with time left on his contract, Belle was kept on the 40-man roster for the last three years of his contract. This was due to an insurance policy that would reimburse the Orioles until the contract expired.
Question: Why is Albert Bell not in the Hall of Fame?
Answer: Sportswriters have claimed that Albert Belle's bad attitude, especially towards the media, may have cost him votes in the Baseball Hall of Fame. However, while he's making appearances on a sports radio show in Cleveland, perhaps he might get his rightful place after all.
Question: Why was Belle called Joey?
Answer: It was said that Joey was a nickname based on his nickname 'Jojuan.' However, he insisted on being called Albert instead. However, the nickname became more of an insult to Belle thanks to a taunting Indians fan. Belle responded to the fan by throwing a ball at him during a game at Jacobs stadium.