Latest posts by Pro Sports Bio Team
(see all)
NBA fans of the 1990s may remember Kenny Anderson as one of the best point guards in the history of the league. The kid from Queens excelled in the sport as one of the best prospects in the country during his time at the prestigious Archbishop Molloy High School. Before gracing the hardwood at Georgia Tech and later the NBA, Anderson was able to rack up honors that no other player since Kareem Abdul-Jabbar would do.
After being heavily recruited, Kenny Anderson would spend three seasons with the Georgia Tech Yellow Jackets. He was drafted by the New Jersey Nets, where he would play his first five seasons. Throughout his 15 year career, he would play for eight different teams, including a one-year stint overseas.
Kenny Anderson compiled respectable numbers in his career and represented Team USA twice in 1990. Even after retiring from the game as a player, Anderson continues to contribute his efforts to the game as a coach.
Kenny Anderson Quick Facts
Full Name: 

Kenneth Anderson

Birthdate: 

October 9, 1970

Nickname: 

Kenny

Nationality: 

American

Siblings: 

Sandra and Danielle

Wife: 

Natasha

Profession: 

Basketball player, coach

Salary: 

$63 million (total throughout NBA career)

Net worth: 

$800,000

Social Media: 

N/A

Awards:

1994 NBA All-Star

1991 First-Team All-American

1990 Second-Team All-American

1990 AP Third-Team All-American

1990/1991 First Team All-ACC

1990 ACC Rookie of the Year

1989 Mr. Basketball (New York)

1989 Gatorade National Player Of The Year

1987 Second Team Parade All-American

1988/1989 Parade All-American
Kenny Anderson Birthplace and Early Life
Kenny Anderson was born in Queens, New York, on October 9, 1970. He is the son of Joan Anderson, who raised him as a single parent. He had not met his father until he was an adult. His siblings are Sandra and Danielle. During his childhood, he attended schools in Queens.
He was a student at Archbishop Molloy High School, known for being a school for the academically gifted. It was also a school where many athletic powerhouses originated from to attend major basketball programs (Division I). During his high school career, he became a four-time Parade All-American. This feat had not been accomplished since Lew Alcindor (now Kareem Abdul-Jabbar). He was also named to the All-City team in all four years.
Aside from those honors, he was named a McDonald's All-American, Mr. Basketball for New York State, and Gatorade's High School Basketball Player of the Year. His coach had benched him in the first quarter of every game during his freshman year. Despite this, he set the all-time state record for most points scored with 2621 points. That record was broken by Sebastian Telfair more than a decade and a half later. During his senior year, he was considered the best player in the country, ranking ahead of NBA legend Shaquille O'Neal and others.
Anderson was heavily recruited by college basketball powerhouses Duke, North Carolina, and Syracuse. Recruiters had also had their eye on Anderson since his middle school years. Eventually, Anderson signed a national letter of intent to play for the Georgia Tech Yellow Jackets in November 1988.
Georgia Tech (1989-1991)
Anderson played two seasons for the Georgia Tech Yellow Jackets as a starting point guard. During the 1990 season, he was one of three players known as 'Lethal Weapon 3' along with Brian Oliver and Dennis Scott to lead the team to the Final Four. They were dominant in the tournament beating the likes of Shaquille O' Neal and the LSU Tigers and two other Big ten programs before facing off against the UNLV Rebels, with the latter eventually winning the national title later on.
After Scott and Oliver graduated, Anderson began to see his numbers improve. He averaged 26 points per game and helped lead the Yellow Jackets to an 8th seed in the 1991 NCAA tournament. The team lost to the Ohio State Buckeyes in the Second Round.
Shortly after the end of the 1990-1991 season, Anderson declared to enter the NBA Draft and forgo the last two years of eligibility.
International Playing Career
Anderson represented Team USA in 1990 in both the FIBA World Championship in Buenos Aires, where they won the bronze medal and the silver at the 1990 Goodwill Games in Seattle.
NBA Career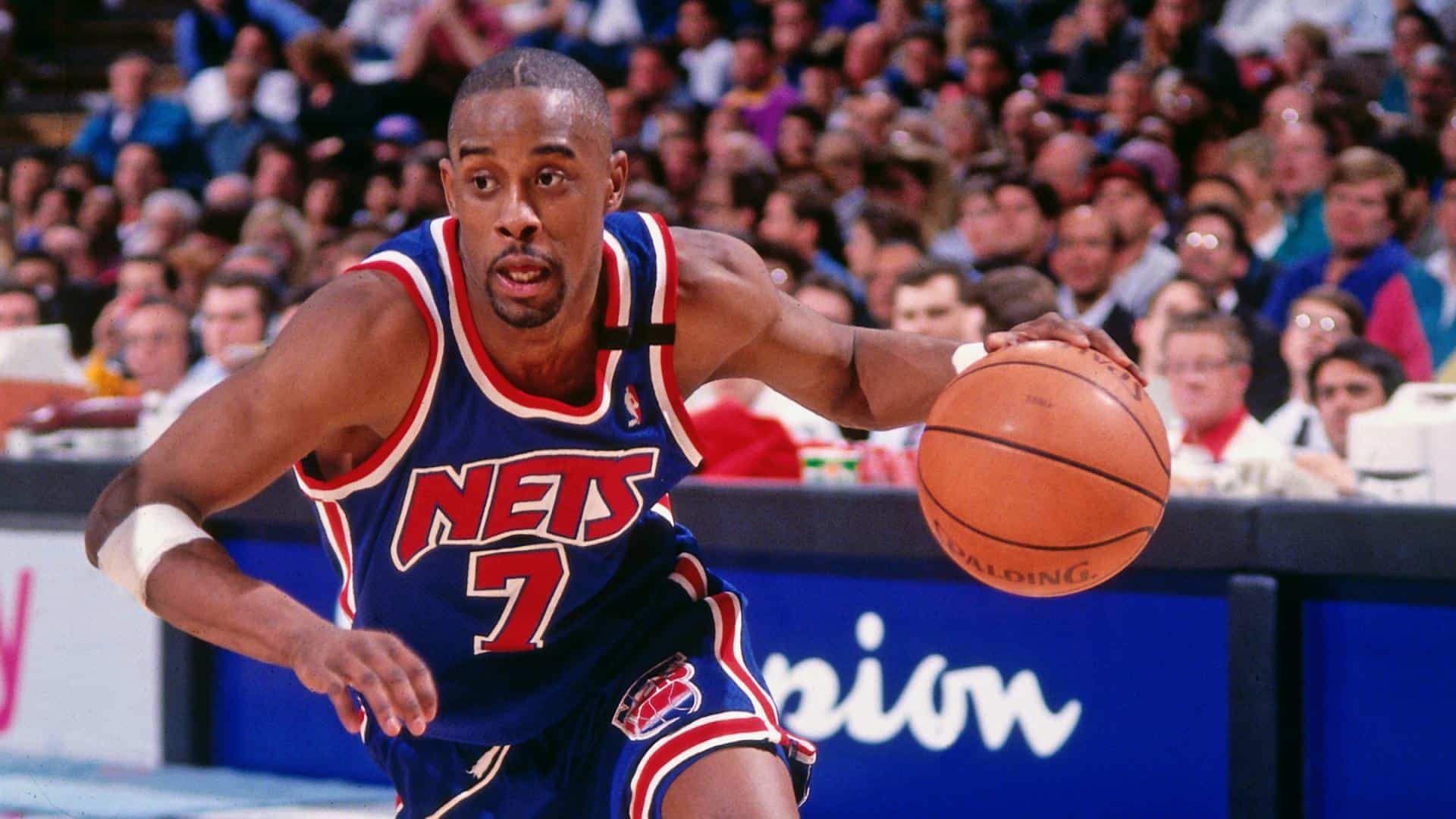 New Jersey Nets/Charlotte Hornets
Anderson was drafted 2nd overall by the New Jersey Nets in the 1991 NBA draft. At the time, he was the youngest player in the league. He put up an average of seven points, two rebounds, and three assists per game. Those numbers would double during his second season. The following season, his averages increased again, where he put up 19 points and ten assists per game.
During the 1994 season, Anderson was named to the NBA All-Star team along with his Nets teammate Derrick Coleman. Anderson continued to play for the Nets until 1996, when he was traded to the Charlotte Hornets, where his stats stayed the same throughout the season.
Portland Trail Blazers/Boston Celtics/Seattle Supersonics
After the 1996 season, Anderson signed a deal with the Portland Trail Blazers. During his time with the Portland Trail Blazers, Anderson averaged about 18 points, seven assists, and four rebounds per game in his first year with the team. During the 1997-1998 season, he was traded to the Toronto Raptors. However, Anderson refused to play in Canada. As a result, the team traded Anderson to the Boston Celtics.
The 1997-1998 season saw Anderson's stats drop considerably but managed to average double-digit points per game. Anderson spent the next five seasons with the Celtics until he was traded to the Seattle Supersonics in the middle of the 2002-2003 season. In 2003, Anderson was traded once again, this time back to the Hornets (where they had since relocated to New Orleans).
Years as a reserve point guard/Overseas
From 2003, Anderson had bounced around the league. He had stayed with teams for no more than one season. After the 2003 season had ended, Anderson signed with the Indianapolis Pacers. The following year, he played for the Atlanta Hawks before finishing up the 2004-2005 season with the Los Angeles Clippers. During those years, his playing time had dropped considerably.
By the end of the 2005 season, Anderson decided to leave the NBA and play one more season in Lithuania for CB Zalgiris. He retired from basketball as a player in 2006.
Post-NBA Life
A year after his retirement from his professional playing career, Anderson was hired as the head coach of the Atlanta Krunk, a team in the Continental Basketball Association. Over the years, he also made some television appearances, including Pros vs. Joes in 2008, Wake Up Call hosted by Dwayne "The Rock" Johnson in 2013, and a documentary entitled Mr. Chibbs in 2017.
In September 2008, he was inducted into the New York City Basketball Hall of Fame. That same year, he was the head coach of a slamball team known as the Hombres. Anderson moved to Florida and graduated with a degree in organizational leadership in 2010 from St. Thomas University in Miami.
Anderson was hired as a head coach for the David Posnack Jewish Day School's basketball team in Davie, Florida. Two years later, the school decided not to renew his contract after he was arrested for DUI.
In 2014, Anderson took part in a diplomacy trip to North Korea led by former NBA star Dennis Rodman. Anderson played in an exhibition match versus the North Korean Senior National Team in celebration of the birthday of the country's leader, Kim Jong-un. In 2018, Anderson was hired as the head coach of the Fisk University basketball team in Nashville, Tennessee.
Currently, Anderson is in his fourth season as the head coach of the Fisk University Bulldogs. In 2019, Anderson suffered a stroke near his home in Pembroke Pines, Florida. He was hospitalized for several days.
In 2013, Kenny Anderson revealed that as a child, he was sexually abused twice. He said that the people responsible were someone who lived in his neighborhood and a basketball coach. This revelation was made when he was part of an Off-Broadway show where he told his story. The first incident was when he was eight years old before moving to the Lefrak City section of Queens and then two years later by a basketball coach of a youth team Anderson was a part of.
Anderson had publicly declined to reveal the identities of the two and who they were associated with. However, he had revealed the names to his current wife.
Aside from the Mr. Chibbs documentary, Anderson released a memoir entitled "Instructions Not Included." The book was co-authored by JJ Staples and was considered a mix of a memoir with a cautionary tale and confessional about the life of Kenny Anderson. Anderson revealed that during the making of the book, he felt uncomfortable about coming clean about some moments of the past.
This also included revelations of his sexual abuse and his personal turmoil off the court. His revelations have also been part of his intent to help others who may have suffered from similar struggles.
Chibbs Documentary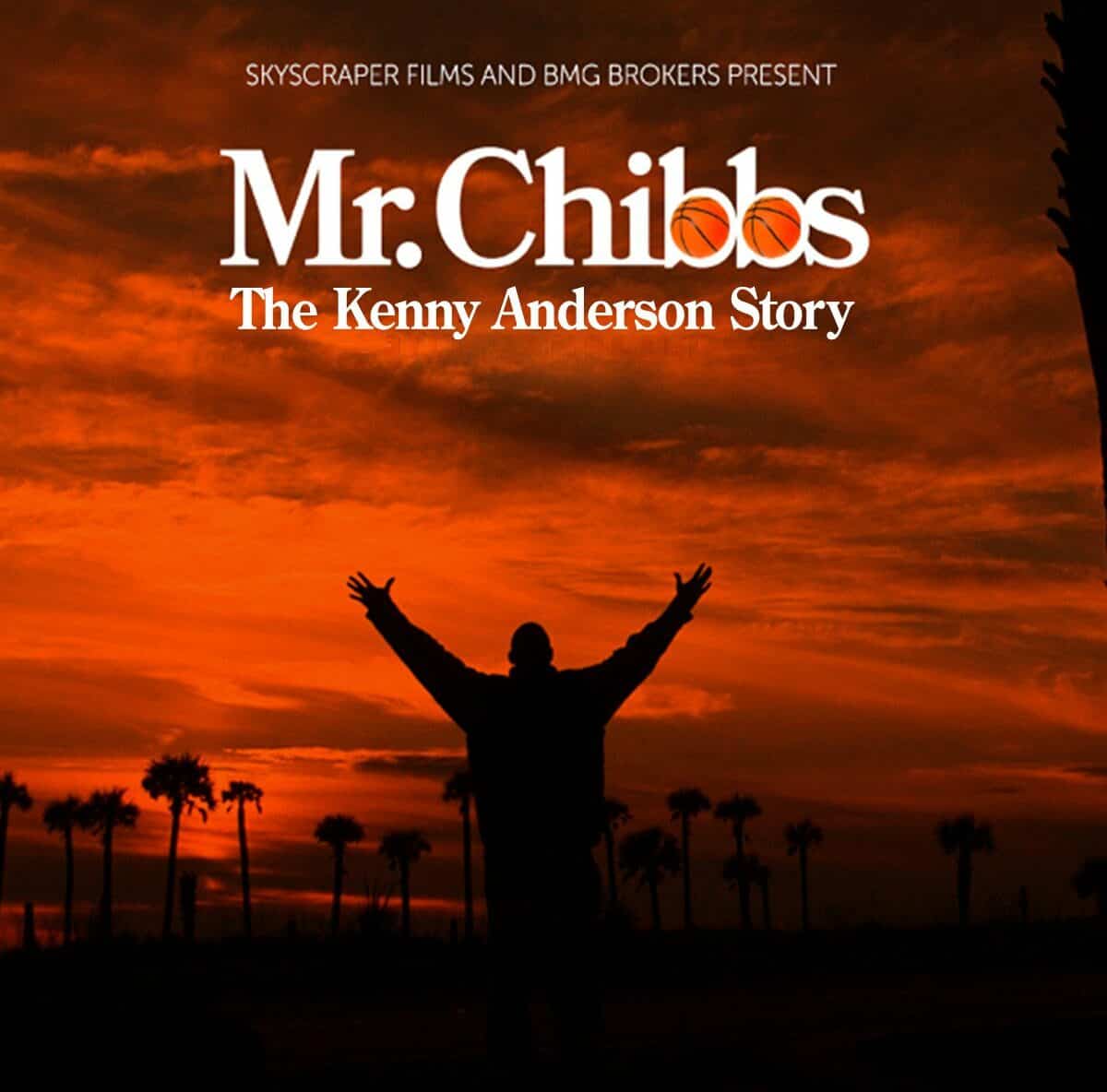 In 2017, a documentary of Kenny Anderson was released entitled Mr. Chibbs. The film followed Kenny Anderson as he stated that his life was difficult despite basketball being an easy way out for him. The documentary noted his struggles since his mother's death and the loss of his coaching position after his DUI charge in 2013. The film also documents how Anderson has faced his personal demons and eventually found a way to move forward and leave his past behind him.
Kenny Anderson Family and Relationships
Kenny Anderson is the son of Joan Anderson, who died in October 2005 from a heart attack. He has two sisters, Sandra and Danielle. His father is unknown, but it is said that Anderson had connected with him at some point during his 30s.
He is the father of eight children by five women. His first child was born during his time at Georgia Tech. He dated Dee Dee Roper (AKA DJ Spinderella of Salt-n-Pepa). Anderson and Roper have a daughter together. His first wife was Tami Roman, which produced two daughters, including Jazz Anderson, who is a hip-hop artist. In 1998, he met and later married Tamiyka Lockhart. The pair have a son named Kenny Anderson, Jr. After the pair divorced in 2004, Kenny met his current wife Natasha during the NBA playoffs. They married in 2007 and currently raise Kenny Jr. and Natasha's daughter from a previous relationship.
His children include Jazz, Lyric, Christy, and Kenny Anderson Jr.
Kenny Anderson Net Worth and Salary
Throughout his NBA career, Kenny Anderson amassed a total salary of $63 million. However, he filed for bankruptcy in 2005. His current salary as the head coach of Fisk University is unknown. However, his net worth as of 2021 is estimated at around $800,000.
Kenny Anderson Memorable Quotes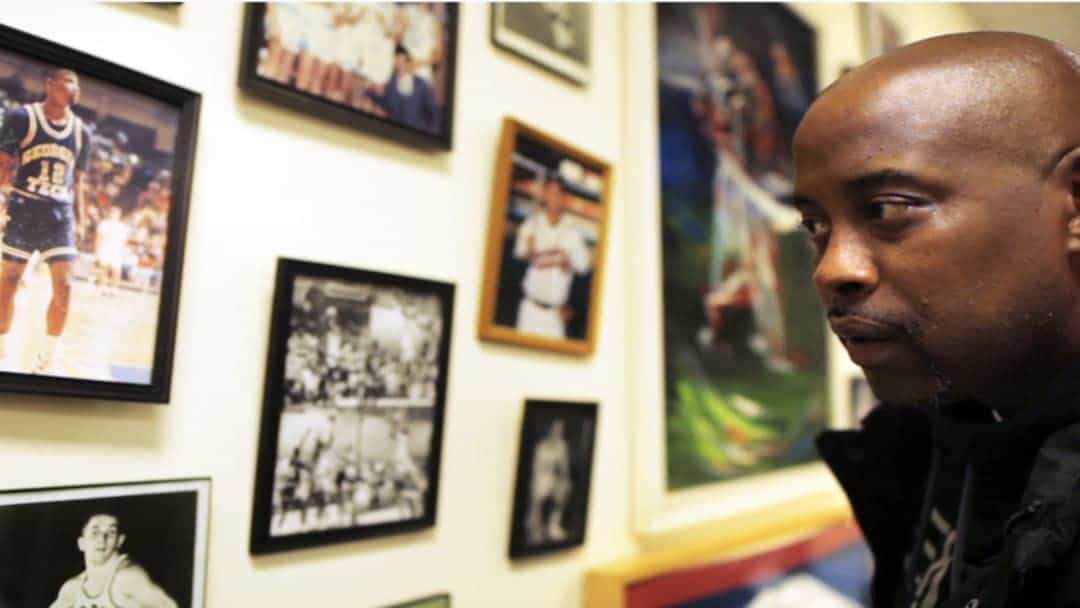 "I still have my quickness, but I turn it on and off. I don't want to fail in anything I do, and that's why I'm hard on myself."
"I thought the safeties and the cornerbacks would be a lot quicker, and I didn't think they'd let us get over the top."
"Even last year, I was watching the Celtics, and I could see the offense was disheveled."
Kenny Anderson FAQ
Question: When did Kenny Anderson have a stroke?
Answer: Anderson suffered a stroke on February 23, 2019, at his home in Pembroke Pines, Florida. As a result, he is reported suffering from some memory loss and mobility issues.
Question: Where did Kenny Anderson go to college?
Answer: He attended Georgia Tech from 1989 to 1991. He attended St. Thomas University in Miami, Florida, and graduated in 2010.
Question: Is Kenny Anderson left-handed?
Answer: Kenny Anderson was known for shooting with his left hand in the NBA.
Question: What are Kenny Anderson's career stats in the NBA?
Answer: Kenny Anderson played 15 years in the NBA. His stats are 10,789 points and 5,196 assists.
Question: Is Kenny Anderson a pro skater?
Answer: Although there is a Kenny Anderson that is a pro skateboarder, he is not the same one that played in the NBA.